Right from the first days of establishment, AZDIGI, along with the leadership and staff, have consistently brought the highest quality products to customers, along with a perfect support regime to bring peace of mind. And trust in Vietnamese products, and become one of the pioneers in the field. Typically with products like Turbo Business Hosting, when for the first time in Vietnam, applied the Platinum server system and NVMe hard drive for Web Hosting.
Additionally, AZDIGI also wishes to bring values to society, contributing to the development of Vietnam's young generation when entering the era of the 4th Industrial Revolution. For that reason, AZDIGI has launched a free Hosting service for students and those learning to create websites.
Free Hosting at AZDIGI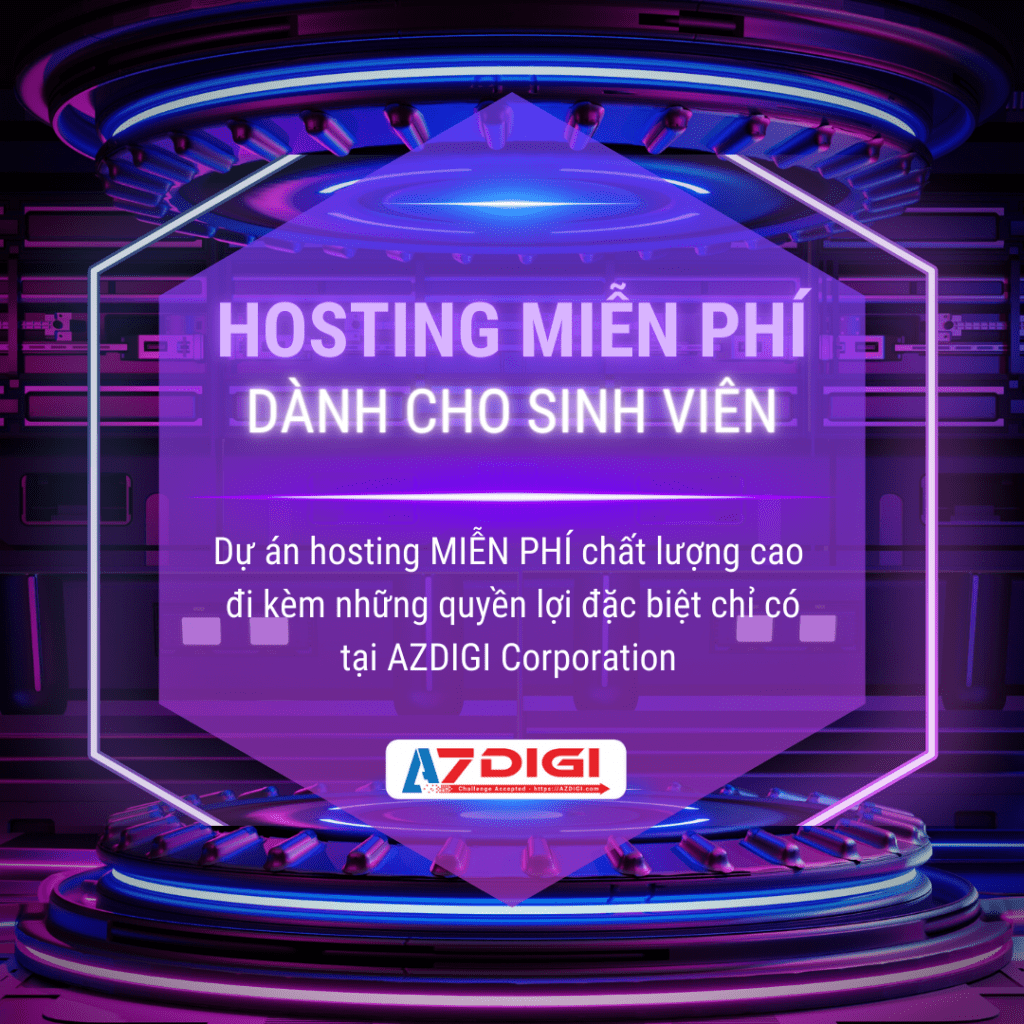 AZDIGI has been making a solid impression on customers with high-quality products and is always at the forefront of the market, which has been trusted and used by hundreds of thousands of websites. And with a free hosting service, AZDIGI will bring an excellent and thorough experience from the system. High quality server, strong and stable infrastructure with the criteria "free hostingThe best is completely free with no requirements, operated by a professional unit in the field of Web Hosting like AZDIGI.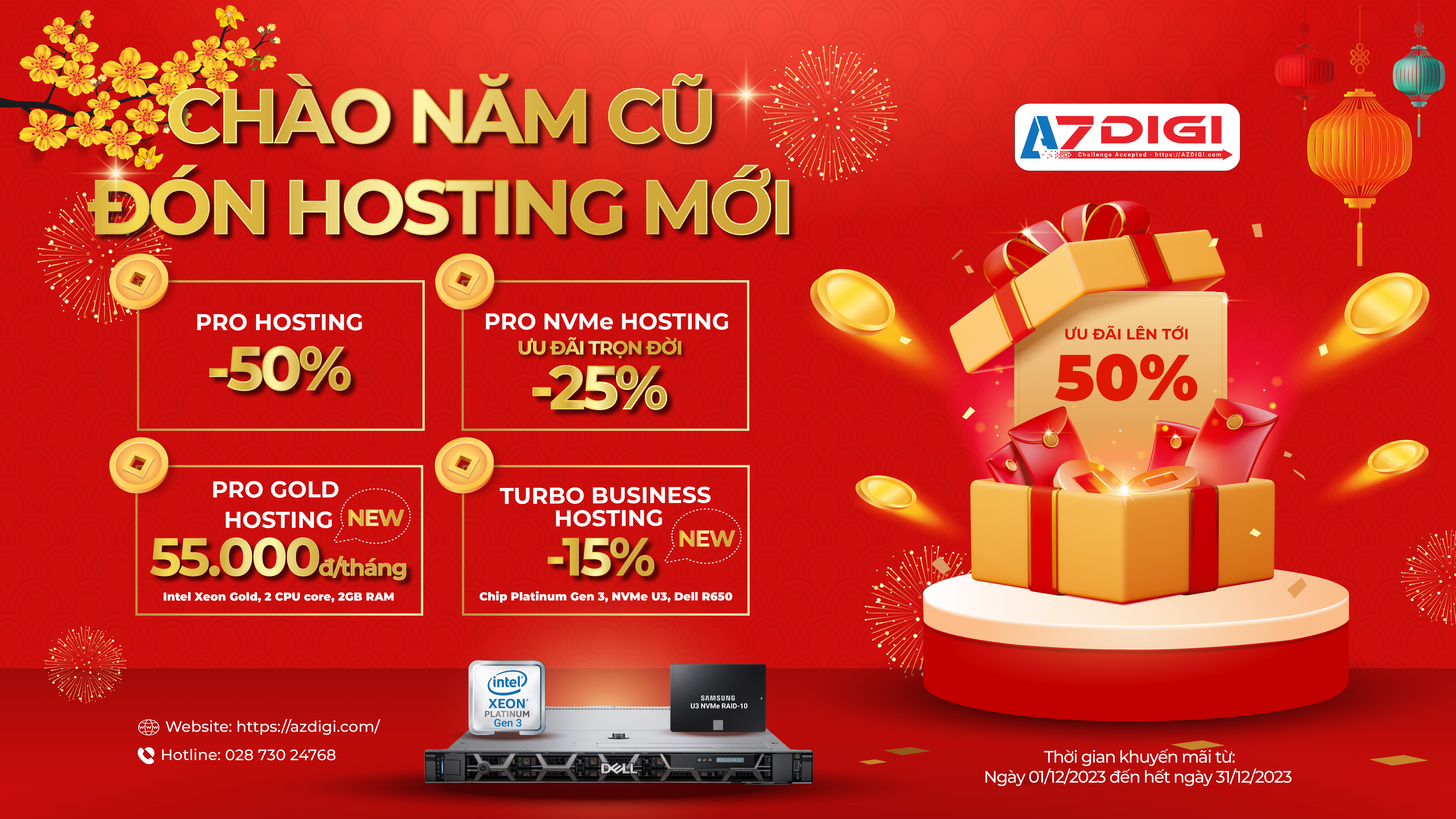 Unlike other free hosting packages, the free host at AZDIGI has the same standards and configuration as a paid host but will be adjusted to suit research and learning purposes such as:
1GB of storage, entirely enough for research and learning needs.
Unlimited bandwidth.
Latest DirectAdmin Control Panel.
The Student Community helps each other to make a website with a large number of members supporting each other.
Powerful server with high-speed Enterprise RAID-10 SSD.
Webserver LiteSpeed Enterprise with the highest speed available today.
The WordPress theme and plugin library is worth over $1600 and updates every year.
CloudLinux OS is highly secure.
Supports PHP 5.6 to PHP 8.1.
Unlimited MySQL databases.
Highly compatible with famous open source codes like WordPress, Joomla, and OpenCart,…
Free sub-domain with 3 options azdigi.blog, azdigi.page and azdigi.shop.
With the above characteristics, free hosting for students at AZDIGI will bring the best experience like paid hosting services.
Student community helping each other to make web
Along with the free high-quality hosting package, AZDIGI also wants to create a playground for students who share the same passion for website making. Therefore, the community group of Students Helping Each Other Make Web was born to create a playground to connect and support in making websites or using AZDIGI's free hosting.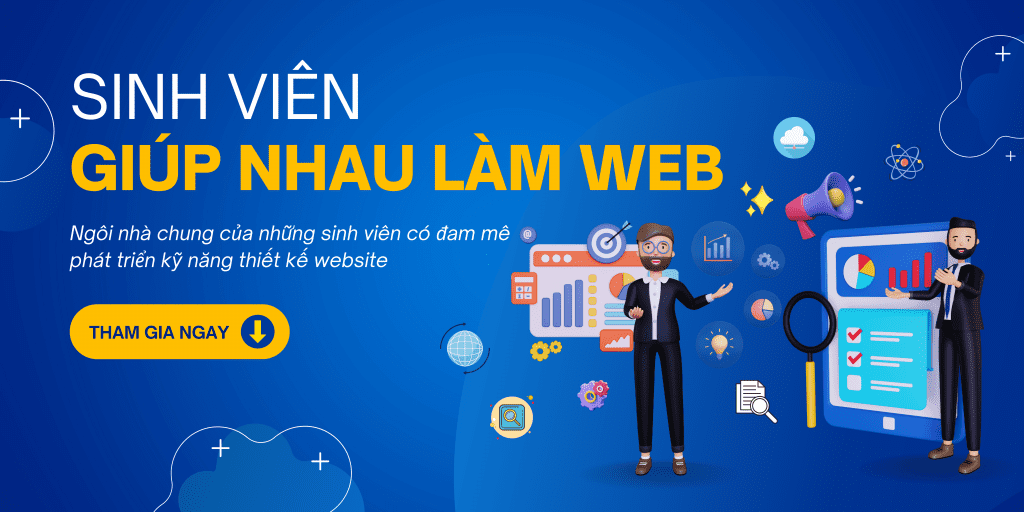 Here, in addition to students quickly posting questions and concerns encountered in using free hosting and making websites, it is also a bridge between you and businesses that are direct customers of AZDIGI to bring more job opportunities and cooperation together.
Term of Conditions for Free Hosting
For the free host package to be used for the proper purpose, contributing to protecting the quality of the service, AZDIGI only provides the free hosting package according to the following regulations:
Each customer can only register one free hosting package.
The period of the free hosting package is 3 months and will not renew itself, to renew it, you will need to contact the sales department here .
Customers with a student card will be upgraded to a 6-month cycle, and when renewing will need to contact the sales department here .
It is not allowed to use the free hosting package to make websites that buy/sell/exchange cheating services, pirated websites, buy and sell game items/promote games, promote unfair services, software affects server performance.
Renewal non-contact services are automatically deleted 30 days after the expiration date.
Instructions to register for free hosting
Registering for a free host at AZDIGI is straightforward and especially fully automatic.
To register for a free host, go to the Free Student Hosting page and press the Register button.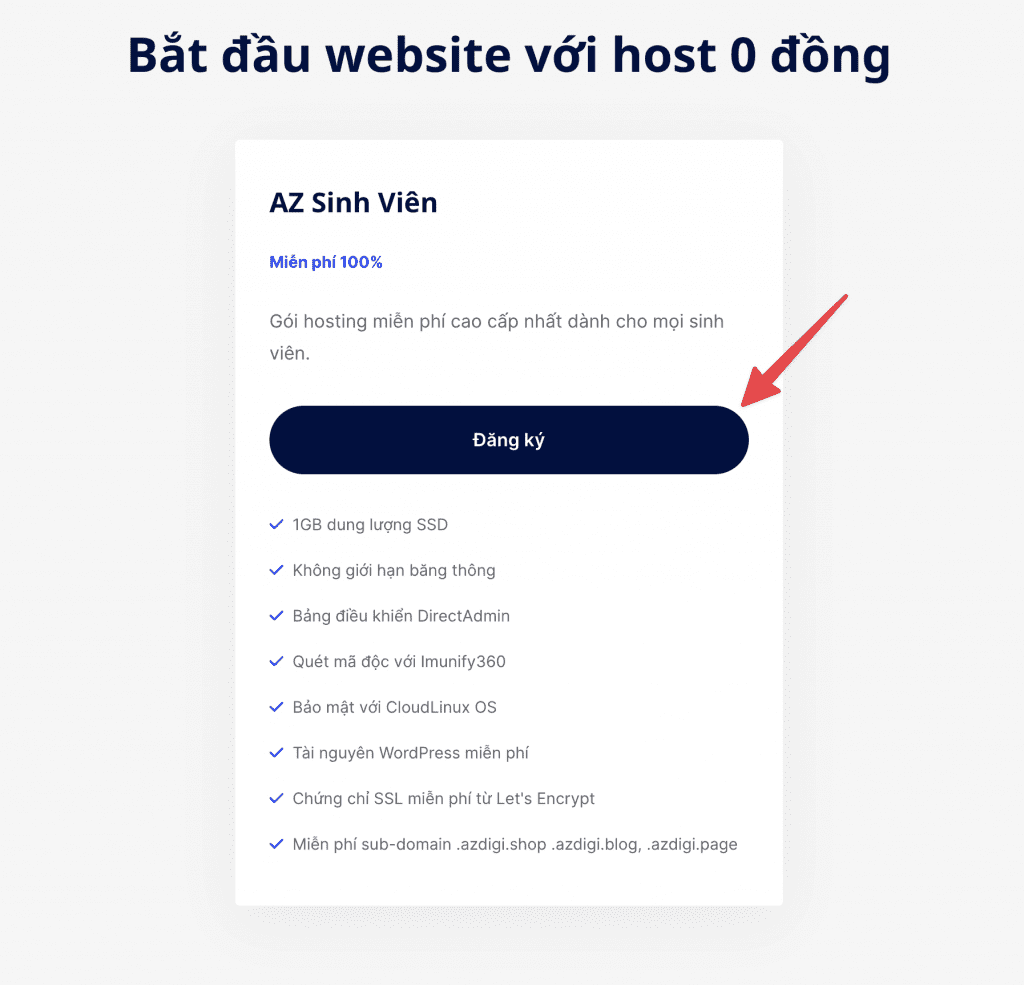 Then you choose the option to use the domain name; if you do not have a domain name, select the Use a subdomain from the AZDIGI option and enter the subdomain you want to use. If no one has used this sub-domain yet, you can proceed to use it.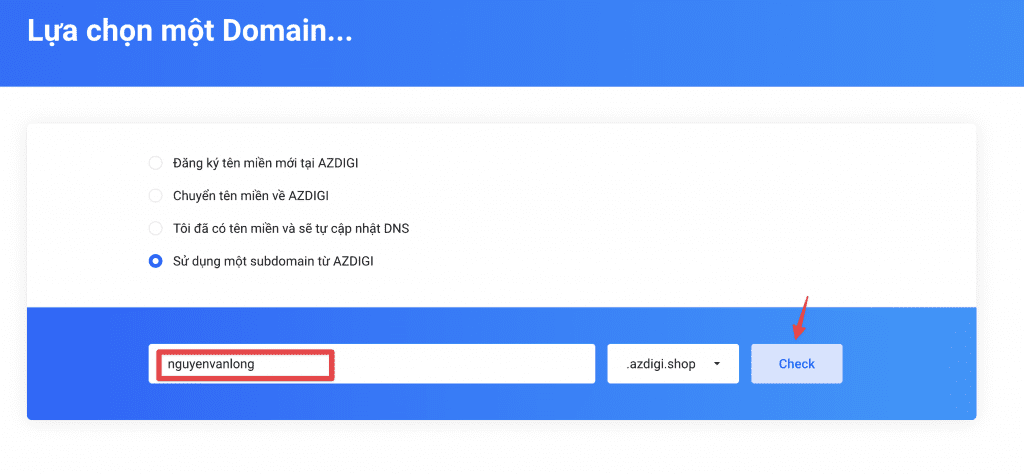 At the last step, you enter your personal information to create a service management account, or if you already have one, log in to complete the registration.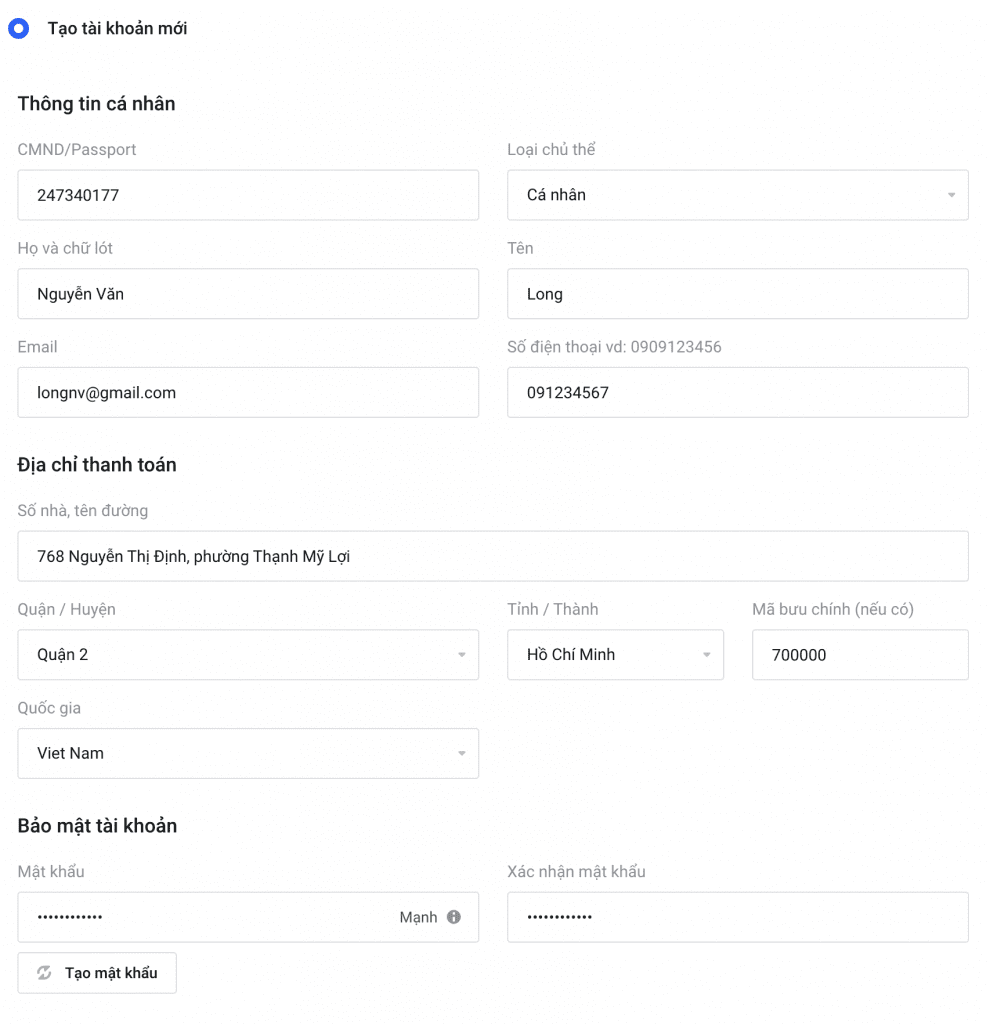 After registration, you can check your email to receive host information or visit the Service Management page to see if your service status has been activated. Right now, you can start using the best free hosting.
If you have any questions about registering and using the free hosting package, you can join the Student group to help each other make the web for the earliest support.