With the desire to always bring the best experience to customers, especially always taking the opportunity to apply the latest technologies, the AZDIGI team is constantly researching to stay ahead of new trends. Expressed through outstanding new products such as Turbo Business Hosting, Platinum VPS with almost the first applied technologies on the market today.
We not only upgrade for new products, but we also always want to upgrade and bring all the best to customers who have trusted and chosen AZDIGI. For that reason, AZDIGI officially launched the system Business Hosting NVMe completely new from upgrading the entire Enterprise Hosting system before for existing customers upgrade to a new system using a more advanced Intel Xeon V4 CPU with a standard hard drive NVMe Enterprise completely free, and keep the same service price list.
Business Hosting, after upgrading, promises to boost performance to a new level, along with a 4-story intensive technical support mode to help customers always feel secure during service use.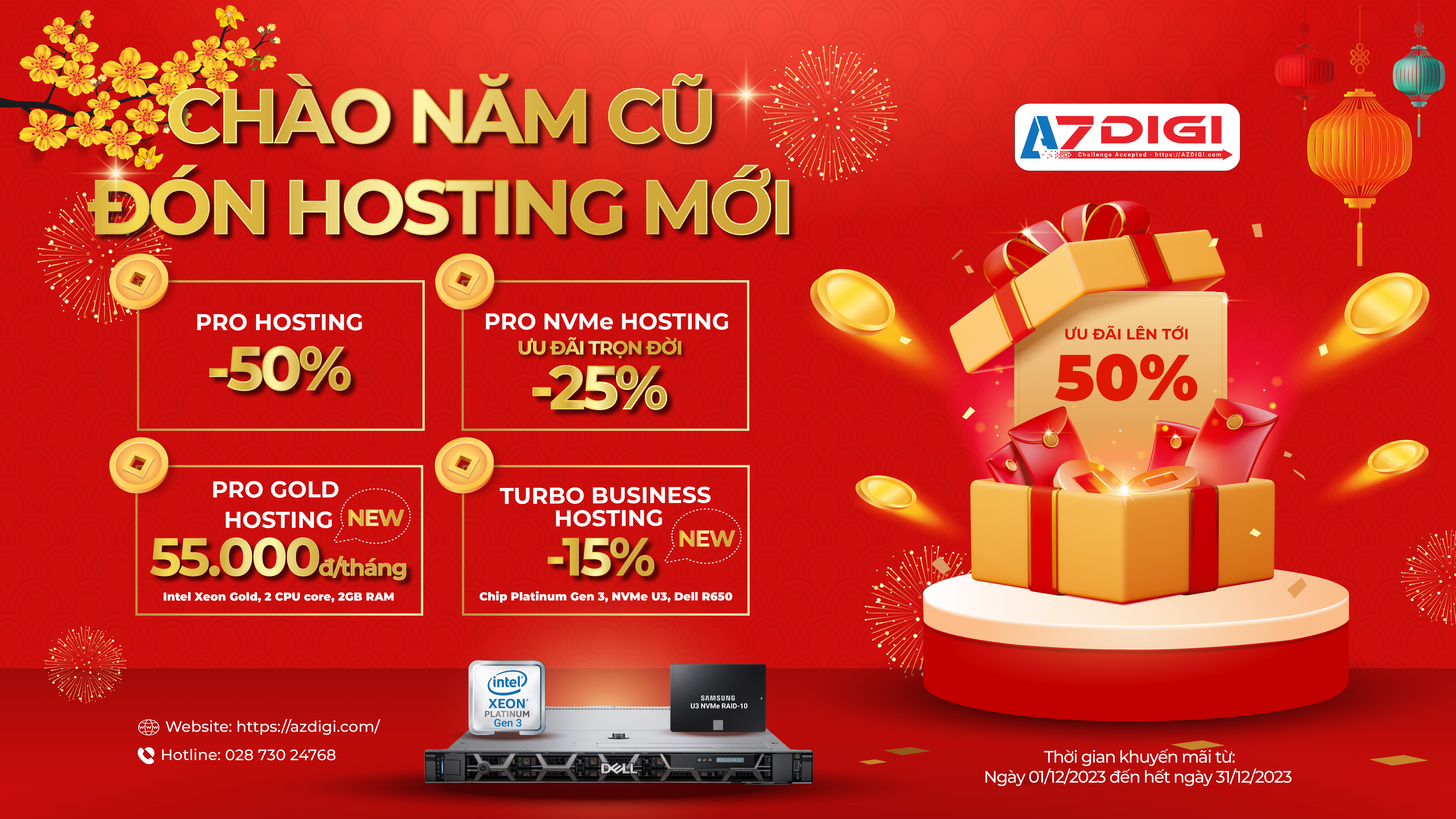 Upgrade Intel Xeon processor E5-2696 v4
Since the launch of Business Hosting in 2018, AZDIGI has undergone many processor upgrades so that Enterprise Hosting customers are continuously upgraded with new technology regularly, even while using the service.
Currently, 100% of servers for Business Hosting Nvme are wholly upgraded, Dell server line, as well as the Intel processor chip, is a Xeon E5-2696 v4 Dual CPU with 44 cores and 88 threads plus maximum speed. Intel's Turbo Boost technology to 3.60 GHz will help the server handle tasks faster than Hosting Business before. From there, the website has outstanding speed even when the traffic is unusually high.
NVMe Enterprise hard drive from Samsung
Today's highest-speed NVMe hard drive technology, which AZDIGI has pioneered for many high-end services such as Turbo Business Hosting and Platinum VPS, is now available on the entire Business Hosting Nvme service system.
Business Hosting Nvme uses PM9A3 hard drive, NVMe U.2. hard drive line Samsung's dedicated RAID-10 will provide write speeds of up to 6.9GB/s, sequential write of up to 200,000 IOPS, and sequential read of up to 1,000,000 IOPS, which will help increase the rate of writing data from the website to the system. The system is faster, minimizing the possibility of overload and significantly improving the data writing speed for MySQL, which will dramatically affect the performance of the website.
Therefore, Business Hosting service plans will now have an IOPS speed of 100MB/s instead of 20MB/s as before.
30% off on the occasion of the upgrade
Marking a special upgrade event that brings a new breath to Business Hosting, AZDIGI applies a 30% discount when registering new Business Hosting service packages from November 22, 2022, to the end of November 30. 2022.
Promo code applied: BUSINESSHOSTINGNVME2022
When customers have put their trust in AZDIGI for many years until now, it is also a great pressure for the whole AZDIGI to serve you every day. Because of that emotional understanding, the whole AZDIGI always strives to serve with all their heart and try to make customers most satisfied. Although AZDIGI has to spend a lot of effort, significant research investment costs, and the cost of upgrading 100% of the previous Enterprise Hosting system.
Thank you for being with us over the years. Next time, AZDIGI will have to make more efforts to give customers peace of mind and allow AZDIGI to accompany your development.
Sincerely thank you,