In this tutorial, AZDIGI will show you how to enable AWStats on DirectAdmin.
I. What is AWStats?
What is AWStats? AWStats is a powerful and free tool that generates advanced web statistics, streaming, FTP or mail server graphically.
This log analyzer works as a CGI or from the command line and shows you all the possible information in your logs in a few web pages with a graphical interface. It uses an information file part to be able to process large, frequent and fast log files.
It can parse log files from all services like Apache (NCSA/XLF/ELF log format or common log format/CLF), WebStar, IIS (W3C log format), proxy, wap, streaming servers, mail servers and some FTP servers.
By default, DirectAdmin uses Webalizer as the statistics software. But because of AWStats' powerful capabilities, cPanel is also using it as the default statistics software.
If you want to know about the difference between AWStats and Webalizer, you can see the following link:
In this article, AZDIGI will guide you through enabling AWStats on DirectAdmin.
II. Enable AWStats on DirectAdmin
To enable AWStats on DirectAdmin, follow these 3 steps.
Step 1: SSH into your server
To enable AWStats on DirectAdmin, we first need to SSH or access your VPS/server with root privileges. Or at least log in to the server with a user with sudo privileges. If you don't know how to SSH into your VPS/Server, you can refer to the following tutorial:
After successfully SSH, we continue with step 2 to execute AWStats activation commands on DirectAdmin.
Step 2: Commands to enable AWStats on DirectAdmin
To enable AWStats on DirectAdmin, you execute the 2 following commands:
cd /usr/local/directadmin/custombuild
./build set awstats yes
./build set webalizer no
./build awstats
    
Note:
Move into the

custombuild

directory.
Download and install the AWStats setup.
Add

awstats=1

to the

directadmin.conf

configuration file.
Adjust the

webalizer=1

configuration to

webalizer=0

to disable Webalizer. However, you can change it to 1 if you want to use Webalizer and AWStats in parallel, but I do not recommend doing so.
Below is an image of the entire process of executing the above commands: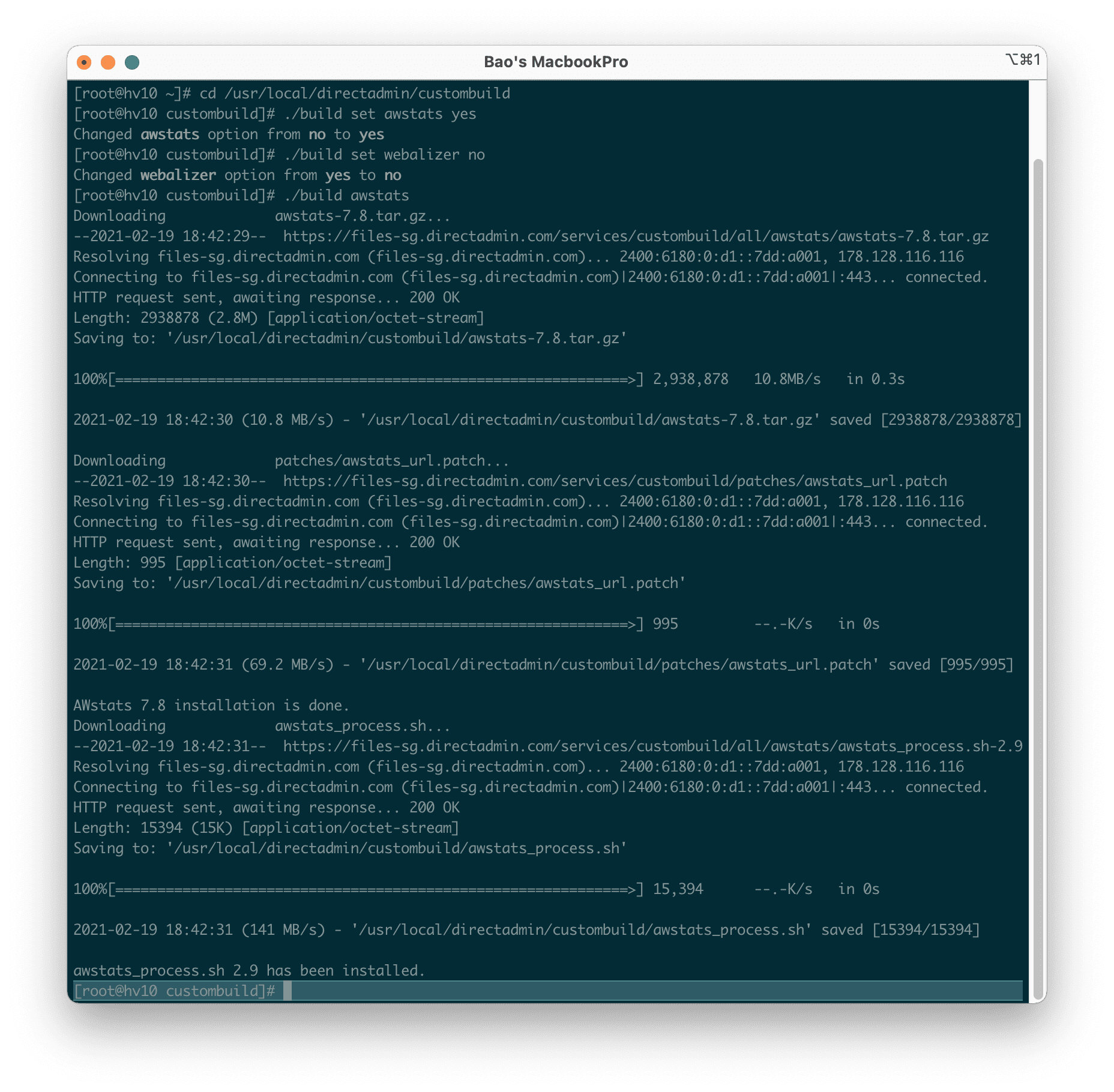 AWStats logs for each different user and domain will be saved at the following path:
/home/user/domains/tenmien.com/awstats


    
After running all the above commands, we need to restart DirectAdmin with the following command:
service directadmin restart
Hoặc
/etc/init.d/directadmin restart
    
Note: Because the AWStats html data will be initialized every midnight, you need to wait about a day before you can see the AWStats information.
Step 3: View AWStats information on DirectAdmin
At this step, you will need to wait 1 day from the time you complete step 2.
You log in to any user on DirectAdmin, then select Site Summary/Statistics/Logs => click EDIT ACCOUNT CONFIGURATION.
Here you will select AWStats to On as shown below and select Save.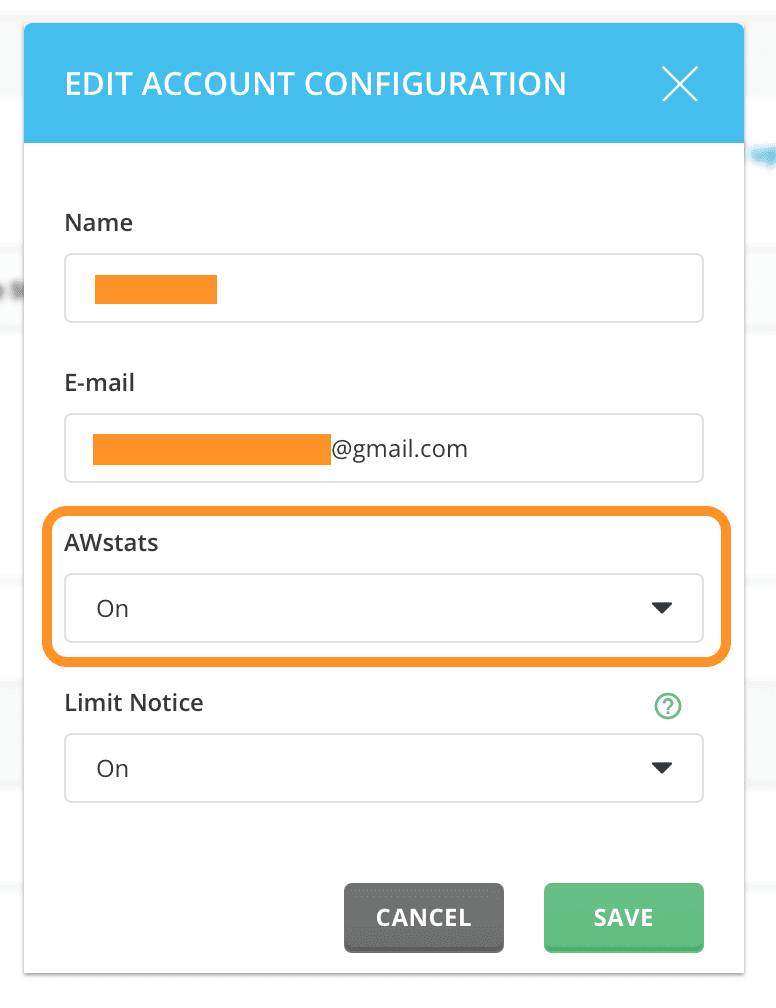 Now on this page, you can completely click on the domain to see the information generated by AWStats last night.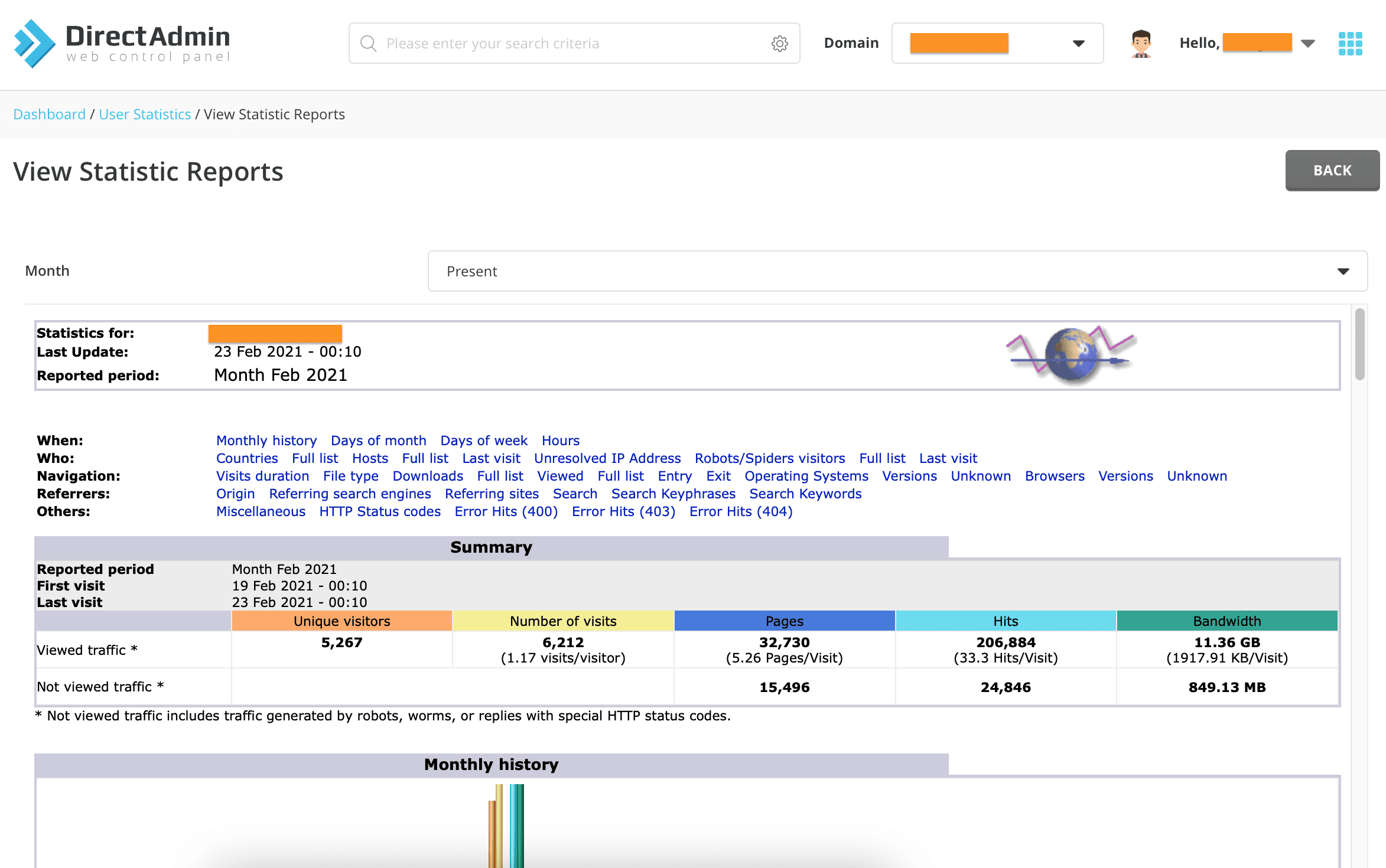 As you can see, the amount of information AWStats provides is extremely detailed.
III. Summary
So with only three steps above, we have enabled AWStats on DirectAdmin complete. The amount of information on AWStats is very intuitive and detailed, so I think the DirectAdmin development team should set AWStats as the default statistical software.
Hope this article will be of help to you. Wishing you success!
See more useful articles about DirectAdmin at the following link:
If you need assistance, you can contact support in the ways below: