By default, the Security Questions feature on DirectAdmin will be disabled. And to enable Security Questions on DirectAdmin, this is the article for you.
I. Introduction to Security Questions
Security Questions is a security feature on DirectAdmin. Administrators or users who enable this feature will be asked to answer security questions when logging into the DirectAdmin interface.
This feature appears from DirectAdmin version 1.43.1, but until the most recent version is 1.61.5, this feature is not enabled by default. It must be enabled by the administrator to be able to use it.
If the user uses this feature on the DirectAdmin server that has not been enabled, the following message will be received:

This article is intended for implementation administrators.
II. Enable Security Questions on DirectAdmin
To enable Security Questions on DirectAdmin, we follow these 2 steps.
Step 1: SSH into your DirectAdmin system
To enable Security Questions on DirectAdmin, we first need to SSH or access your VPS/server with root privileges. Or at least log in to the server with a user with sudo privileges. If you don't know how to SSH into your VPS/Server, you can refer to the following tutorial:
After successfully SSH, we continue with step 2 and execute the commands to enable Security Questions on DirectAdmin.
Step 2: Commands to enable Security Questions on DirectAdmin
To enable Security Questions on DirectAdmin, we execute the following command: And I will also explain each command below.
cd /usr/local/directadmin/
./directadmin set security_questions 1
./directadmin set max_security_question_attempts 5
./directadmin set block_ip_after_failed_security_questions 0
service directadmin restart
    
Explanation of the above commands:
Command 1: Move into the directadmin folder.
Command 2: Enable security_questions option to 1, default not configured or configured 0.
Command 3: Enable the max_security_question_attempts option, the maximum number of question attempts is 5.
Command 4: Enable block_ip_after_failed_security_questions option will block the IP address after many failed attempts, with 0 it will not block. If you set 1, the user will be informed that the IP will be blocked if the answer is wrong on the last attempt. And if you set it to 2 then no warning will be given.
Command 5: Restart DirectAdmin.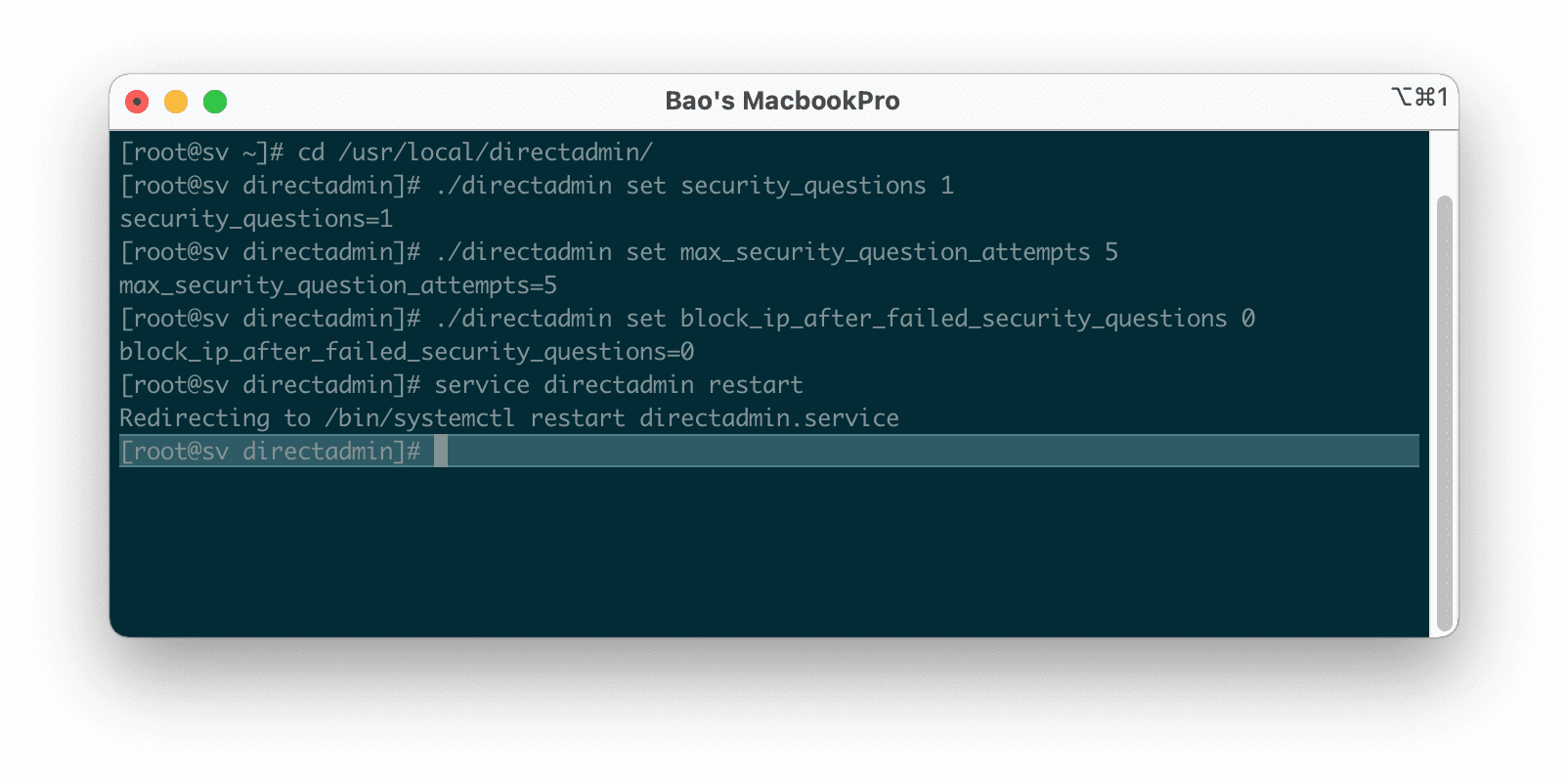 Now we can use the Security Questions feature on DirectAdmin, even Admin, Reseller or User can use it. We just need to select the user icon in the upper right corner, select Password and continue to select Manage Security Questions.

Note: In case, after performing all the above steps, you still receive a message that this feature has not been turned on as it was originally. Then you just need to use the latest build of DirectAdmin as below:
II. Summary
So we can enable Security Questions on DirectAdmin with the above two simple steps. However, since this is a default feature that will be disabled, if you need to use it and is not an administrator, please contact your DirectAdmin hosting provider to enable it.
See more useful articles about DirectAdmin at the following link:
If you need assistance, you can contact support in the ways below:
Hotline 247: 028 730 24768 (Ext 0)
Ticket/Email: You use the email to register for the service and send it directly to: support@azdigi.com .
Refer to the best Web Hosting service!