How to reset the aaPanel password
Welcome back to the AZDIGI documentation channel. Continuing with the series on aaPanel control, in this article, AZDIGI will guide you to reset the aaPanel password with the following 2 methods:
First, log in to your Linux VPS with SSH protocol to perform operations.
Method 1: Restore through the menu panel BT
aaPanel uses a management interface, but very few people know that aaPanel also has a menu panel with many features from within the command line window. And to bring up this menu panel, use the BT character.
After SSH into aaPanel's VPS server, enter the word bt and find the line Change panel password corresponding to the 5th number. Next, in the Pls enter new password section, enter the password you need to change.
[root@cloudserver ~]# bt
===============aaPanel CLI==================
(1) Restart panel                           (8) Change panel port
(2) Stop panel                              (9) Clear panel cache
(3) Start panel                             (10) Clear login limit
(4) Reload panel                            (11) Cancel entrance limit
(5) Change panel password                   (12) Cancel domain binding limit
(6) Change panel username                   (13) Cacel IP access limit
(7) Forcibly change MySQL root password     (14) View panel default info
(22) Display panel error log                (15) Clear system rubbish
(23) Turn off BasicAuth authentication      (16) Repair panel (check for errors and update panel files to the latest version)
(24) Turn off Google Authenticator          (17) Set log cutting on/off compression
(25) Set whether to back up the panel automatically  (18) Set whether to save a historical copy of the file
(26) Keep/Remove local backup when backing up to cloud storage
(0) Cancel
===============================================
Pls enter command number:5
===============================================
EXECUTING
===============================================
Pls enter new password: Nhập-Mật-Khẩu-Mới
|-Username: dotrungquan
|-New password: azdigi@2021@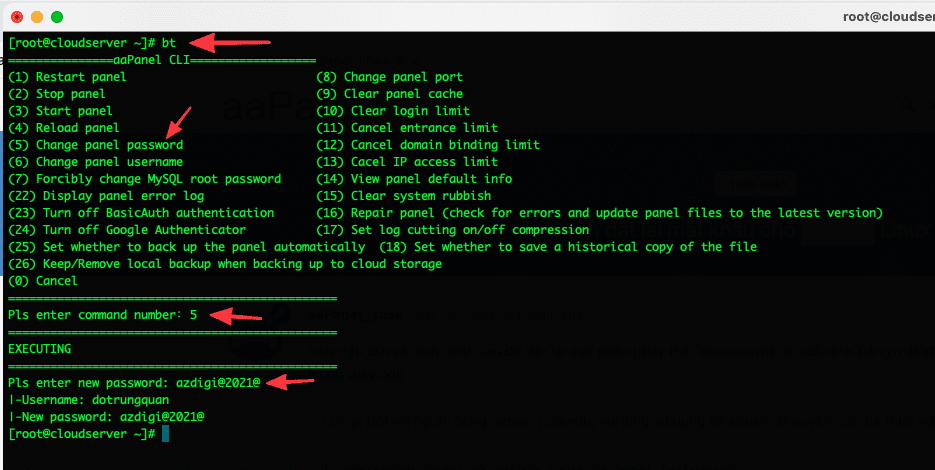 Method 2: Reset password using tools.py
In addition to the above, you can use tools.py of aaPanel to reset the password. This tools.py file is written in Python language and is located at /www/server/panel
Also, at the command line window inside the VPS, use the following command to change the password.
Note: Replace the new-passwd line with the password you need to change.
cd /www/server/panel && python tools.py panel new-passwd
    

Thus, AZDIGI has completed the instructions for resetting the aaPanel password. Hope the article is helpful to you. Wish you success!
In addition, you can refer to some other articles about aaPanel at the link below.
If you need assistance, you can contact support in the ways below: