In the era of the industrial revolution 4.0, which is booming like today, businesses always seize business opportunities in the internet environment. In addition to needing a high-speed website, businesses also need an email address to exchange their branded work through an email address with their domain name (eg. support@azdigi.com), easy to remember, and highly professional.
To have a separate email address by domain name, in addition to the fastest and most cost-effective solution, using the Email Hosting service at AZDIGI, businesses now have another option with higher storage needs: Email Server. So what is Email Server and how is it different from Email Hosting or regular email services? Let's find out with AZDIGI through the article below.
What is an Email Server?
All email services must have an email server system (mail server), the mail server has the role of storing and delivering the user's mail to the recipient's mailbox. These servers will be pre-installed with specialized email server software and a webmail interface for users to use immediately without any additional setup. Customers will use the same email server to save costs.
However, for customers with higher usage requirements, it is possible to choose the option of using an Email Server as each customer will be a completely independent email server to use. The advantages of Email Server such as:

Large storage capacity.
There is no limit to the number of emails used, if there is a large number of emails, the cost per email account will be cheaper.
Protect the maximum privacy of data, because no one can interfere with the server but the client.
The IP address of sending mail is entirely private; this helps limit the possibility of outgoing mail falling into spam due to sharing IP with other customers.
Interfere with deeper configuration with Admin rights to suit the intended use.
Customize email data encryption according to your needs
In general, in fact, an Email Server is still a private server (Dedicated) or a Cloud Server virtual machine if you want to increase cloud storage capacity, but it is optimally configured to be used as a server to send/receive email. .
Difference between Email Server and Email Hosting
Email Hosting (the name at AZDIGI is Pro Mail Hosting) and Email Servers have certain things in common, but there will be some advanced differences. For easy visualization, AZDIGI invites you to refer to the comparison table below.
| Feature | Email Hosting | Email Server |
| --- | --- | --- |
| Create your own email | Have | Have |
| Anti-spam, malicious code | Have | Have |
| Investment cost | Short | Medium |
| Number of emails & domains | Limit | Unlimited |
| Storage capacity | 150GB | 480GB |
| Email List | Have | Have |
| Email Encryption | Have | Have |
| Catch All Emails | Have | Have |
| Connect Outlook/Email Client | Have | Have |
| Admin rights | No | Have |
| Advanced configuration | No | Have |
| Server | Share | Independence |
AZDIGI launches Email Server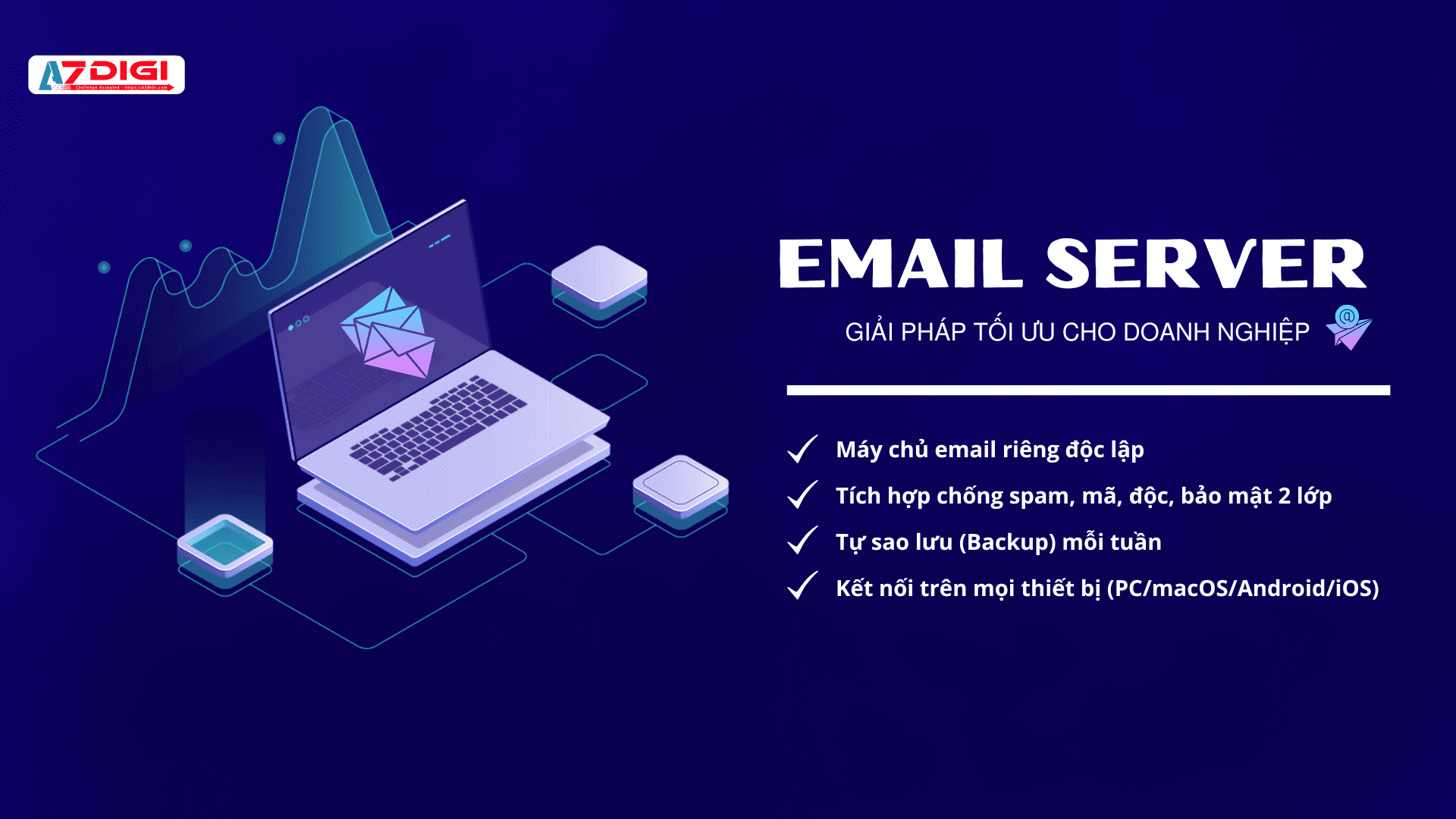 Email Server service was launched to help customers have more options for a separate email service for businesses. From only VND 550,000/month, customers have immediately a professional email server with storage needs for about 80 to 150 email accounts. Features available in Email Server at AZDIGI such as:
High-end server system with high-speed NVMe Enterprise hard drive.
Professional Webmail interface.
Integrate other tools such as Task (assignment), Contacts (private and public contacts), Briefcase (internal file storage),…
Connect to Outlook or other email clients via SMTP, IMAP/POP3.
There is a separate mobile application for iOS and Android.
Full power to configure the email system in depth.
Unlimited email and domain names.
Multiple servers can be configured for load balancing or emergency redundancy.
Backup Email Relay on AZDIGI system.
24/7/365 technical support.
On the occasion of the launch of the Email Server, AZDIGI applies an instant discount of 35% for the first payment when registering from December 8, 2022, to the end of December 18, 2022. The offer will be applied automatically when registering for the service, you can register for Email Server at https://azdigi.com/email-server/ .