When faced with many options for cheap hosting services that suit your website, what is the most important factor you care about price, speed, or service? Besides the performance differences between AZDIGI and HawkHost, price is also important to consider when evaluating hosting services.
In this article, AZDIGI will provide the most comprehensive review so that you can have a better understanding of the two affordable hosting providers, AZDIGI and Hawk Host, and make a decision based on your specific needs. We will explore every important aspect of both hosting providers, from pricing, performance to features, and customer support.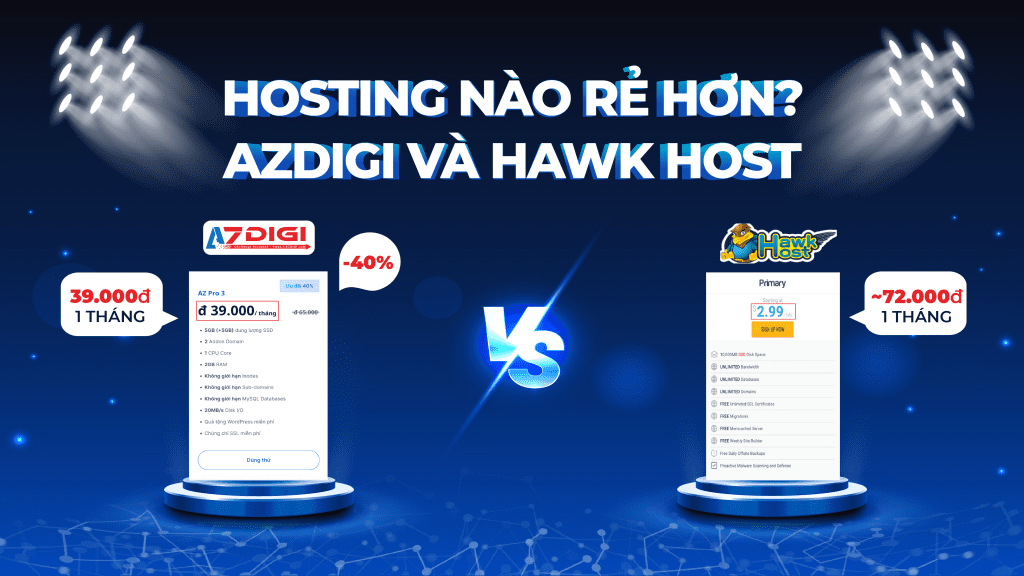 Introduction to AZDIGI and Hawk Host
AZDIGI
Founded in 2016, AZDIGI embarked on an unceasing journey to become one of the best hosting providers in Vietnam. By combining a robust technical foundation with keen market insights, AZDIGI has set new standards for quality and performance that can rival hosting providers worldwide.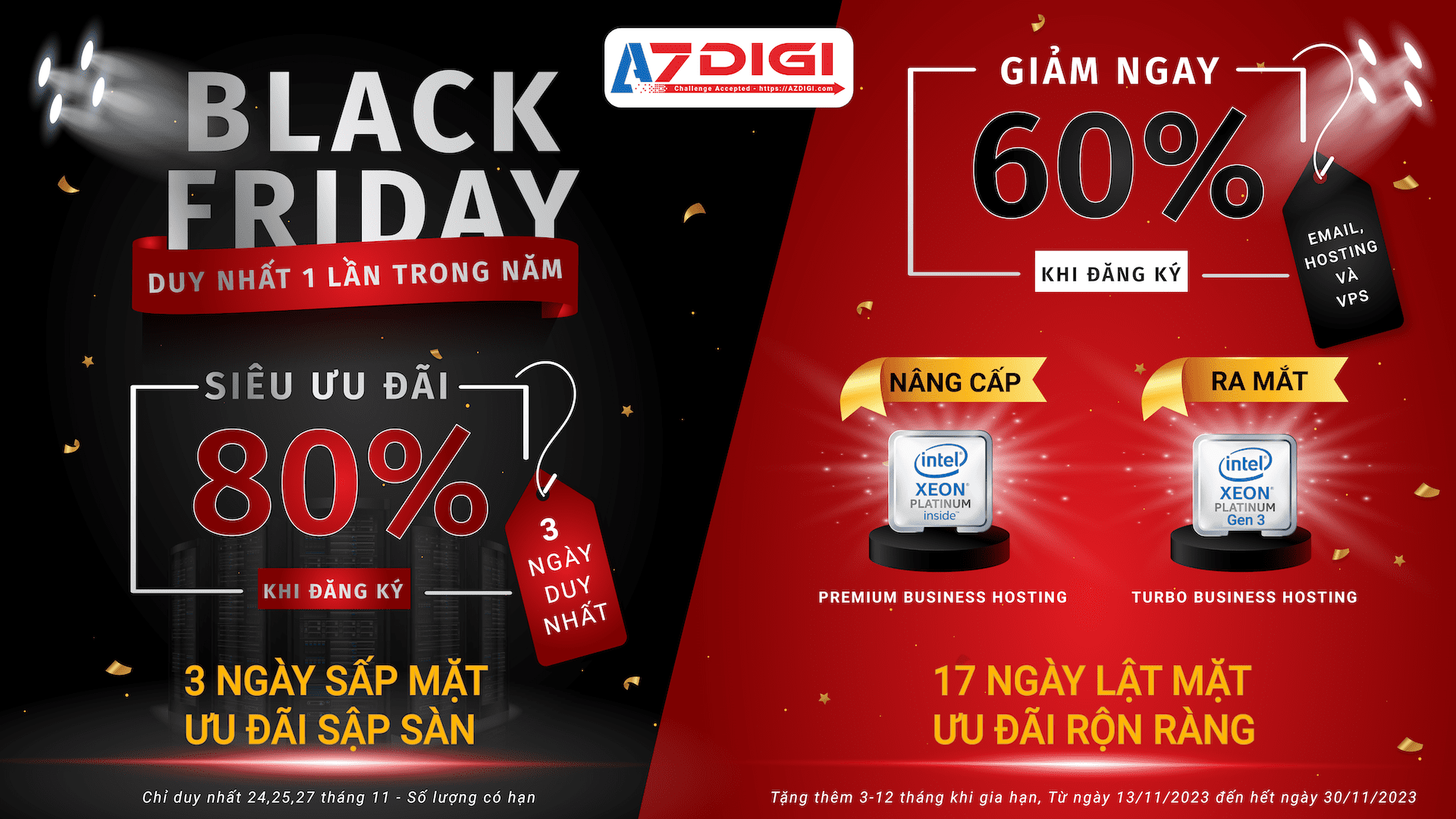 With experience optimizing hundreds of thousands of websites on their system, AZDIGI understands and grasps the operation of websites, thereby offering finely-tuned services to achieve the highest performance. AZDIGI always ensures that customers will experience hosting solutions with the most powerful and advanced configurations while maintaining cost-effectiveness. A prime example of this commitment is server upgrades and doubling storage capacity without incurring any additional costs.
Hawk Host
Hawk Host là một nhà cung cấp hosting đã có tiếng tăm trên thị trường quốc tế. Hawk Host nổi bật với sự linh hoạt trong việc hỗ trợ nhiều datacenter tại nhiều quốc gia trên toàn thế giới, bao gồm Mỹ, Hà Lan, Hong Kong và Singapore. Điều này giúp người dùng có khả năng dễ dàng lựa chọn vị trí phù hợp nhất với lượng người truy cập trên website của họ. 
Hawk Host has quickly garnered a large user base worldwide due to its extremely attractive pricing, along with reasonable storage capacity configurations, especially when you subscribe to their services for a period of one year or more.
Comparing AZDIGI and Hawk Host hosting specifications
| | | |
| --- | --- | --- |
| Configuration | AZ Pro 3 by AZDIGI | Primary by Hawk Host |
| Price | 65.000 VND/month | 4.99$ (~120.000 VND/month) |
| Hard drive | SSD | SSD |
| Capacity | 10GB | 10GB |
| Inodes | Unlimited | 500.000 |
| Disk I/O | 50MB/s | 15MB/s |
| CPU Core | 1 | 1 |
| Entry Processes |   | 20 |
| RAM | 2GB | 1 GB |
| Number of Processes |   | 100 |
| Addon Domain | 2 | Unlimited |
| Redis Socket | ✔️  | ❌  |
| Free WordPress resources | ✔️  | ❌  |
| Service activation time | Immediately | ~ 30 minutes |
| cPanel control panel | ✔️  | ✔️  |
| LiteSpeed Webserver | ✔️  | ✔️  |
| CloudLinux OS | ✔️  | ✔️  |
| Imunify360 | ✔️  | ✔️  |
| Free SSL from Let's Encrypt | ✔️  | ✔️  |
| Refund | 30 days | 30 days |
| Support | Email/Ticket/Chat/Phone | Email/Ticket |
Based on the service comparison table, both AZDIGI's AZ Pro 3 package and Hawk Host's Primary package have their own advantages and disadvantages. We can easily see the differences in the service package configurations, with AZDIGI excelling in performance and technology but having limitations compared to Hawk Host in terms of the number of domains allowed on the same hosting package.
If you want to read a more in-depth technical analysis between these two providers, click here for details. Then, we will continue discussing the price differences between AZDIGI and Hawk Host.
Comparing the prices of AZDIGI vs. Hawk Host
| | | |
| --- | --- | --- |
| Registration period | AZDIGI (AZ Pro 3) | Hawk Host (Primary) |
| 1 month | 65.000 VND | 4.99$ (~120.000 VND) |
| 1 month (40% discount promotion) | 39.000 VND |   |
| 1 year | 858.000 VND | 47,88$ (~1.149.000 VND) |
| 1 year (40% discount promotion) | 514,800 VND |   |
| 2 years | 1.630.2000 VND | 71,76$ (~1.741.000 VND) |
| 2 years (40% discount promotion) | 978,120 VND |   |
AZDIGI and Hawk Host both offer flexible options for customers with monthly and annual service packages. This allows customers to choose services that fit their needs and budgets.
When considering the price comparison between AZDIGI's AZ Pro 3 package and Hawk Host's Primary package, we can easily recognize a significant difference between these two hosting providers. Whether applying for promotions or not, AZDIGI maintains an incredibly attractive and cost-effective pricing structure for its customers. Especially, when choosing a long-term hosting package for 1 or 2 years, the savings with AZDIGI compared to Hawk Host become even more pronounced. With lower prices and attractive promotions, AZDIGI can be the right choice for those seeking quality hosting within a reasonable budget.
Comparison of Customer Support Policies and Additional Services
In addition to performance, features, and pricing, customers should also consider other factors such as customer support policies and additional services before making a decision.
AZDIGI Policy
It can be said that AZDIGI is one of the top-rated providers in terms of customer care and technical support. With a highly skilled team and four separate support tiers, AZDIGI commits to responding promptly within 5 minutes and not keeping customers waiting.
AZDIGI also offers complimentary WordPress themes and plugins, exclusively for customers, such as WP Rocket, Rank Math Pro, WP Astra Lifetime, with a total gift value of up to $1600, updated annually. This helps AZDIGI's customers save time and money when building and managing websites while ensuring that customers always have access to the latest tools in the world.
Furthermore, through reinvesting quarterly and annual profits, AZDIGI consistently maintains and upgrades its technical infrastructure, improves performance, and adds new features to meet the increasing demands of customers. This reinvestment model allows AZDIGI to remain competitive in the hosting market and create conditions for offering attractive promotions to customers every month, ensuring that customers always receive the best value when using AZDIGI's hosting services.
Hawk Host Policy
As Hawk Host is an international service provider, customer support may become more complex for users in Vietnam. This can stem from differences in time zones, languages, and customer engagement methods. Communication in a non-native language can lead to misunderstandings and difficulties in resolving technical issues or user queries. Users in Vietnam need to consider these drawbacks when deciding on a hosting provider to ensure effective assistance.
Conclusion
When comparing AZDIGI and Hawk Host, we can see that both providers have their own advantages in terms of configurations and value for customers. However, in terms of pricing, AZDIGI remains the more attractive option, whether promotions are applied or not. The choice also depends on the specific needs of each customer, including service quality and convenience in website management. Most importantly, the final decision should be carefully evaluated to ensure that the chosen hosting service aligns with the customer's objectives.