What is Ioncube?
ionCube Ltd. is a software company based near Canterbury, Kent, United Kingdom. ionCube was founded in 2002 and introduced tools to protect software written in the PHP programming language from being viewed, altered, and run on unlicensed computers.
Or you can understand more simply that ionCube Loader is a PHP library used with files encoded by ionCube Encoder software. And in many cases when installing software, you will receive a request that "ionCube Loader is not loaded. Please enable it to continue installation"(ionCube Loader doesn't work, turn it on and continue the installation). Because I install Softaculous requires ionCube, I conveniently write this article Installing Ioncube into DirectAdmin.
Install ionCube into DirectAdmin
To install ionCube into DirectAdmin, we follow these 2 steps.
Step 1: SSH into the Linux VPS with the root account
First, you need SSH into your VPS/Server. If you don't know how to SSH into your VPS/Server, you can refer to the following tutorial:
After SSHing into VPS/server, we continue with the next step.
Step 2: Execute the commands to install ionCube into DirectAdmin
Installing ionCube into DirectAdmin is extremely simple, you just need to run the following 3 commands as root and Ioncube will work.
cd /usr/local/directadmin/custombuild
./build set ioncube yes
./build ioncube
    
Explanation of the above commands:
Command 1: Move into CustomBuild folder
Command 2: Change ioncube configuration to "yes"
Command 3: Start the installation of ioncube
Below is the installation process on my VPS:

Change ioncube configuration from "no" to "yes"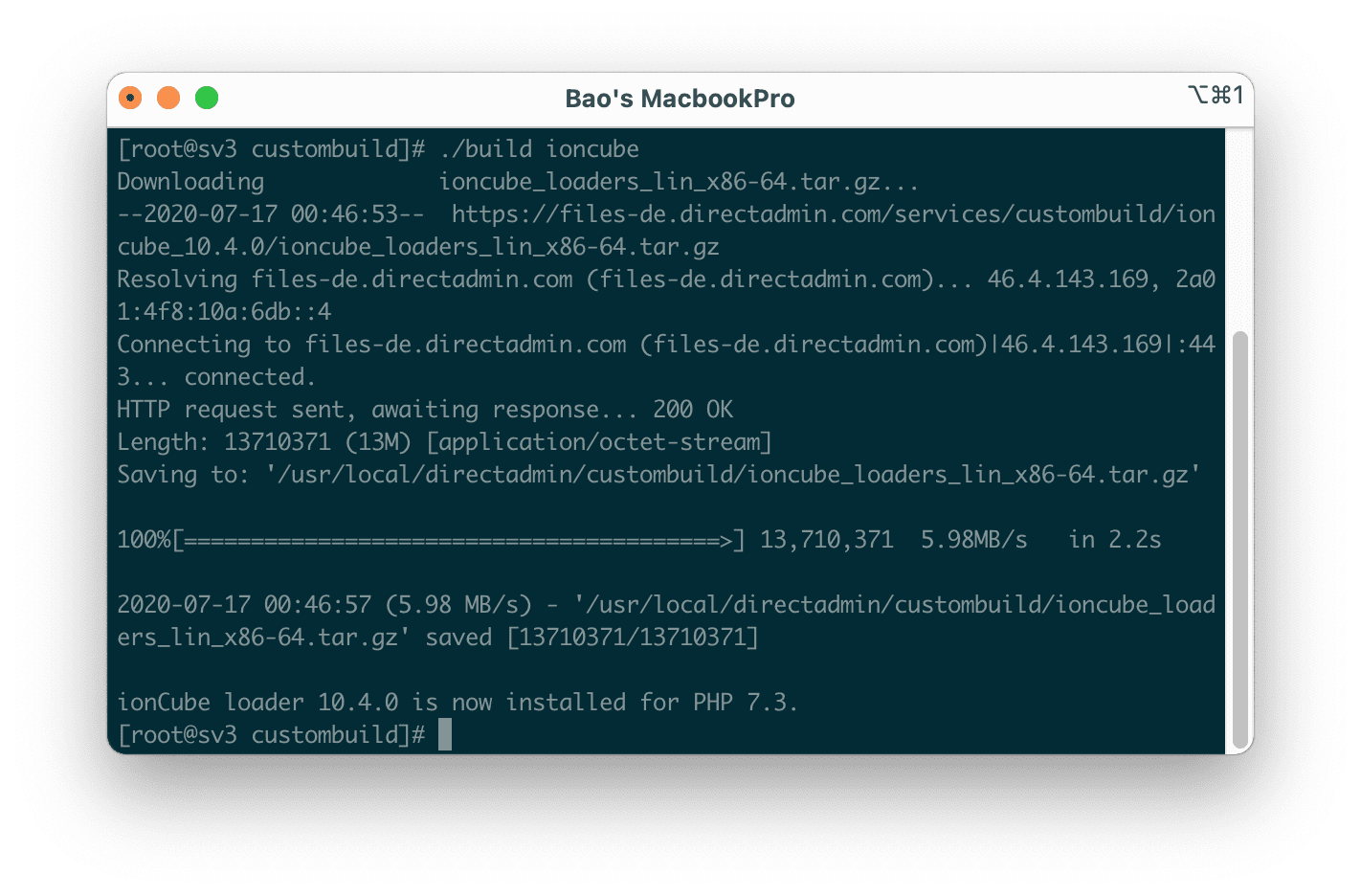 The installation process is extremely quick and simple. If you use more PHP versions, more logs of ionCube loader 10.4.0 is now installed for PHP X.X will appear.
After the installation is complete, we can check with the command:
If showing all the information ionCube PHP Loader and version as below, it is correct.
PHP 7.3.19 (cli) (built: Jul 12 2020 18:04:19) ( NTS )
Copyright (c) 1997-2018 The PHP Group
Zend Engine v3.3.19, Copyright (c) 1998-2018 Zend Technologies
    with the ionCube PHP Loader + ionCube24 v10.4.0, Copyright (c) 2002-2020, by ionCube Ltd.
    with Zend OPcache v7.3.19, Copyright (c) 1999-2018, by Zend Technologies
    
More illustrations for you to imagine:

Note: In case you have not found IonCube, please try restarting your WebServer service.
Summary
AZDIGI has completed showing how to install Ioncube into DirectAdmin with just 2 easy steps. Hope you enjoy this article and share it widely.
Wishing you success.
If you need assistance, you can contact support in the ways below: