With the advancement of technology, computer processing speed is increasingly prioritized to handle large amounts of information in the shortest time possible. Among them, the speed of the hard drive plays a crucial role in ensuring the best performance of a computer or server.
For websites with high daily traffic, the server's processing speed and storage capabilities are top priorities. While hosting using HDD or SSD may not meet these requirements, hosting providers have sought a more effective alternative, which is NVMe hosting. So what is NVMe Hosting and how does it differ from SSD? Let's find out more details with AZDIGI in the article below.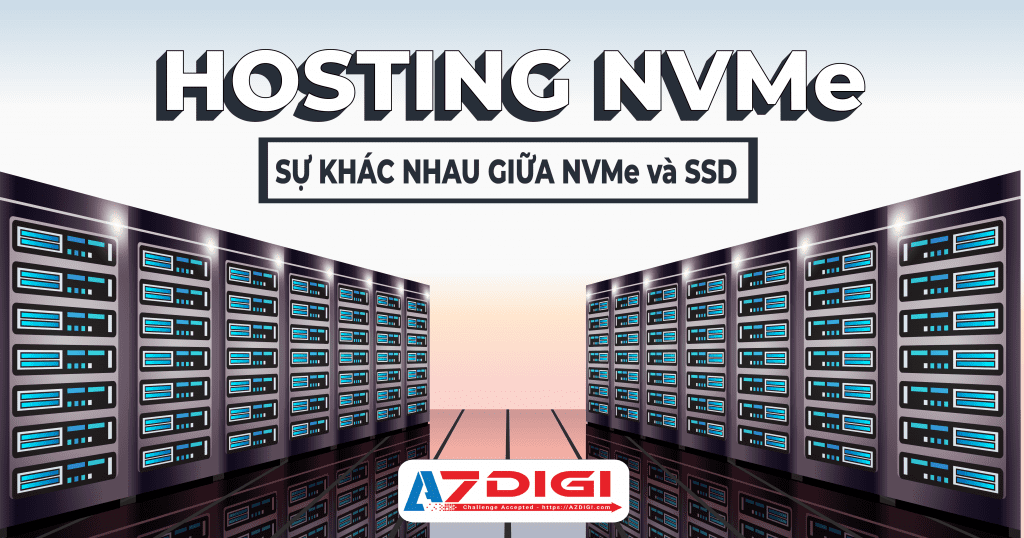 What is NVMe Hosting?
Hosting NVMe is a new solution in the hosting industry that utilizes NVMe solid-state drive (SSD) technology. NVMe Hosting is based on an upgraded version of SSD introduced in 2013, called NVMe (Non-Volatile Memory Express).
The key difference lies in the term "Non-Volatile" in NVMe, which means that the memory is non-volatile and does not get erased when the computer restarts, similar to random-access memory (RAM). The term "Express" represents the high-speed nature of NVMe. Data in the memory is transmitted through the computer's CPU via the PCI Express (PCIe) interface, which enhances data transfer speed and reduces processing time.
NVMe hosting harnesses the high data read/write speeds of NVMe to enhance the processing speed of web server processes. This helps reduce latency in handling new data and enhances the performance of applications on the hosting server, especially for applications that require high read/write speeds like MySQL/MariaDB.
Due to its fast processing speed, each website query requires less time to process, allowing for handling a larger number of concurrent requests.
With the notable advantages of NVMe, Hosting NVMe has become an optimal hosting solution for websites with high daily traffic.
The Difference between NVMe and SSD
NVMe: NVMe (Non-Volatile Memory Express) is an interface and driver standard that defines commands and features for SSDs, utilizing the PCIe interface to enhance performance and interoperability across various systems.
With its special design for SSDs, NVMe enables direct communication between the CPU and the storage interface through a high-speed PCIe slot, regardless of storage capacity. The NVMe driver performs faster input/output tasks and completes them more quickly compared to older storage models that use the Advanced Host Controller Interface (AHCI) driver.
SSD: SSD (Solid State Drive) is a type of storage drive that stores data on solid-state flash memory. It consists of two main components: the flash controller and the flash memory chips. It uses the SATA connection standard to transmit data.
While the function of an SSD is similar to that of an HDD, SSDs use multiple flash memory chips to store data instead of the spinning disks used by HDDs. These chips are interconnected to ensure data integrity even without power.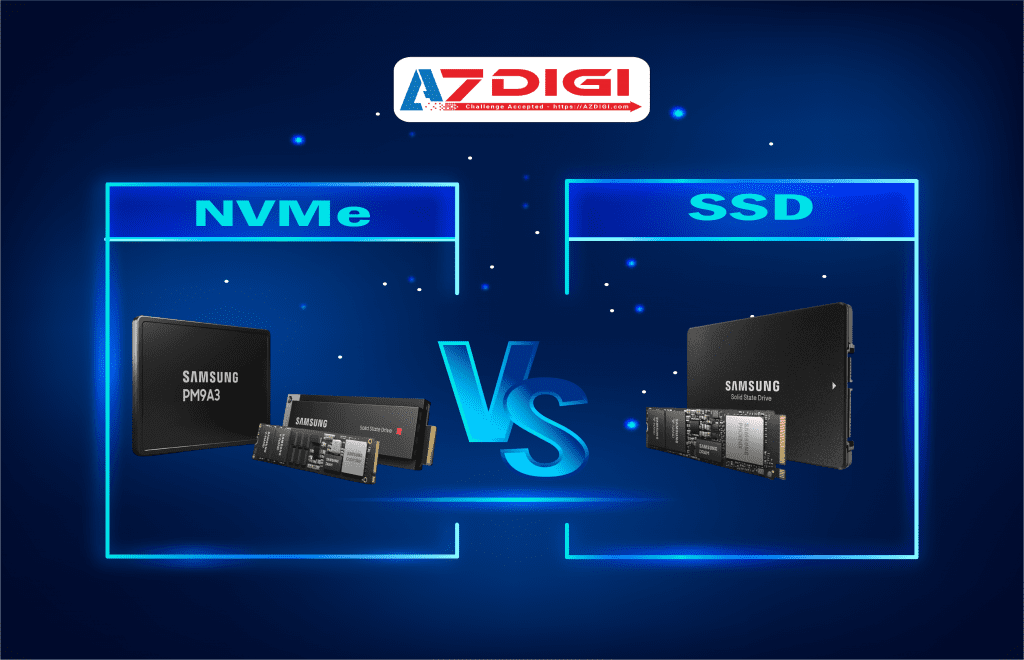 NVMe: NVMe utilizes the PCIe bus, allowing data transfer at higher speeds, typically reaching up to 3 GB/s depending on the specific product. Some premium enterprise-grade NVMe drives, such as those used by AZDIGI, can achieve speeds of up to 6.9GB/s. This eliminates any bottlenecks between the storage device and the hardware, enabling NVMe to read and write data at the highest possible speeds.
SSD: SSDs use the SATA bus for connection and data transmission via the AHCI protocol. Since the AHCI bus standard was introduced in 2004 and is not optimized for SSDs, it imposes limitations on data transfer speeds, unable to exceed 600MB/s.
SSD: Typically, an SSD drive can achieve read/write speeds of around 500MB/s to 550MB/s. SSDs have significantly lower performance compared to NVMe.
NVMe: NVMe drives can achieve read/write speeds of around 3000MB/s to 7000MB/s. It can be observed that NVMe offers approximately 6.3-6.5 times higher performance than SSDs.
NVMe: NVMe can perform independent parallel operations thanks to the PCIe protocol (similar to multi-core processing). This helps reduce data access latency and increase processing speed for read and write operations on the SSD drive.
SSD: SSDs can only perform operations sequentially (similar to single-core processing) due to the data transmission constraints on the SATA interface.
NVMe: To utilize NVMe, it is necessary to check if the motherboard supports specific M.2 slots (for M.2 NVMe) or PCIe slots. However, if the NVMe drive is not M.2, conversion adapters such as PCIe to U.2, PCIe to M.2, or PCIe to SFF-8643 cards and cables may be required, depending on the specific NVMe model being used.
SSD: SSD drives can be used on any motherboard that supports the SATA interface, meaning that most current motherboards are compatible with SSDs.
AZDIGI – The top choice for high-quality NVMe Hosting
AZDIGI is the leading destination for high-quality NVMe Hosting services. With an experienced team of technicians and advanced technology, AZDIGI is committed to providing customers with the best NVMe Hosting solutions to enhance website performance.
High-performance servers – Powerful infrastructure
AZDIGI ensures exceptional processing power for your website with the Samsung PM9A3 NVMe SSD, capable of read and write speeds of up to 7,000 MB/s and 5,100 MB/s, respectively. Alongside this, the Samsung 32GB DDR4 2666MHz PC4-21300 ECC Registered DIMM RAM enhances data processing performance and information transfer speed.
Faster processing speed – Quicker access
Servers are equipped with NVMe SSDs and LiteSpeed WebServer technology to improve access speed and significantly enhance processing performance compared to regular SSDs.
Maximum security
AZDIGI adheres to strict security procedures to protect customer data. All services are ensured with regular backup and off-site backup storage to guarantee absolute safety for customer data.
24/7/365 technical support with dedicated tiers
With a highly experienced and skilled technical team, AZDIGI is always ready to provide 24/7 support to ensure absolute peace of mind for customers. With support divided into four dedicated tiers, we commit to resolving any issues within 15 minutes and take pride in offering the best customer support service available today.
Conclusion
Now you know the difference between NVMe and SSD in hosting. With faster access speeds, higher processing performance, and stable functionality, NVMe is the perfect choice for websites with high traffic and demanding performance requirements. With AZDIGI's high-quality NVMe Hosting services and highly skilled technical team, we are always available to support and optimize your website's performance.
Read more about NVMe Hosting here!