In this fast-paced digital era, selecting and purchasing suitable NVMe hosting services has become a crucial factor in building and operating websites. With such significance, choosing a reputable and high-quality hosting provider is a critical first step to ensure stable website performance, fast access speed, and data security. So, how can you choose and purchase reliable and high-quality NVMe hosting services? Let's explore this with AZDIGI in the following article.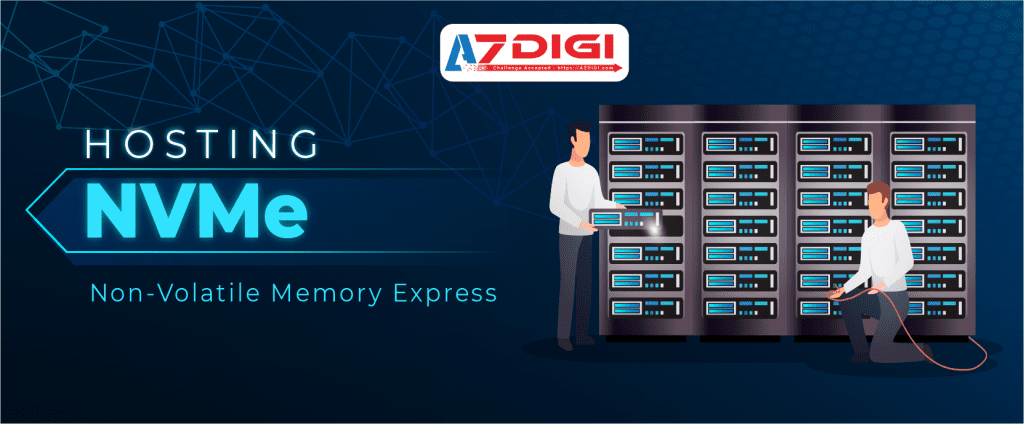 Let's explore NVMe hosting's power
Before delving into NVMe hosting, we need to understand the definition and functionality of NVMe drives for a clearer perspective.
* What is an NVMe Drive?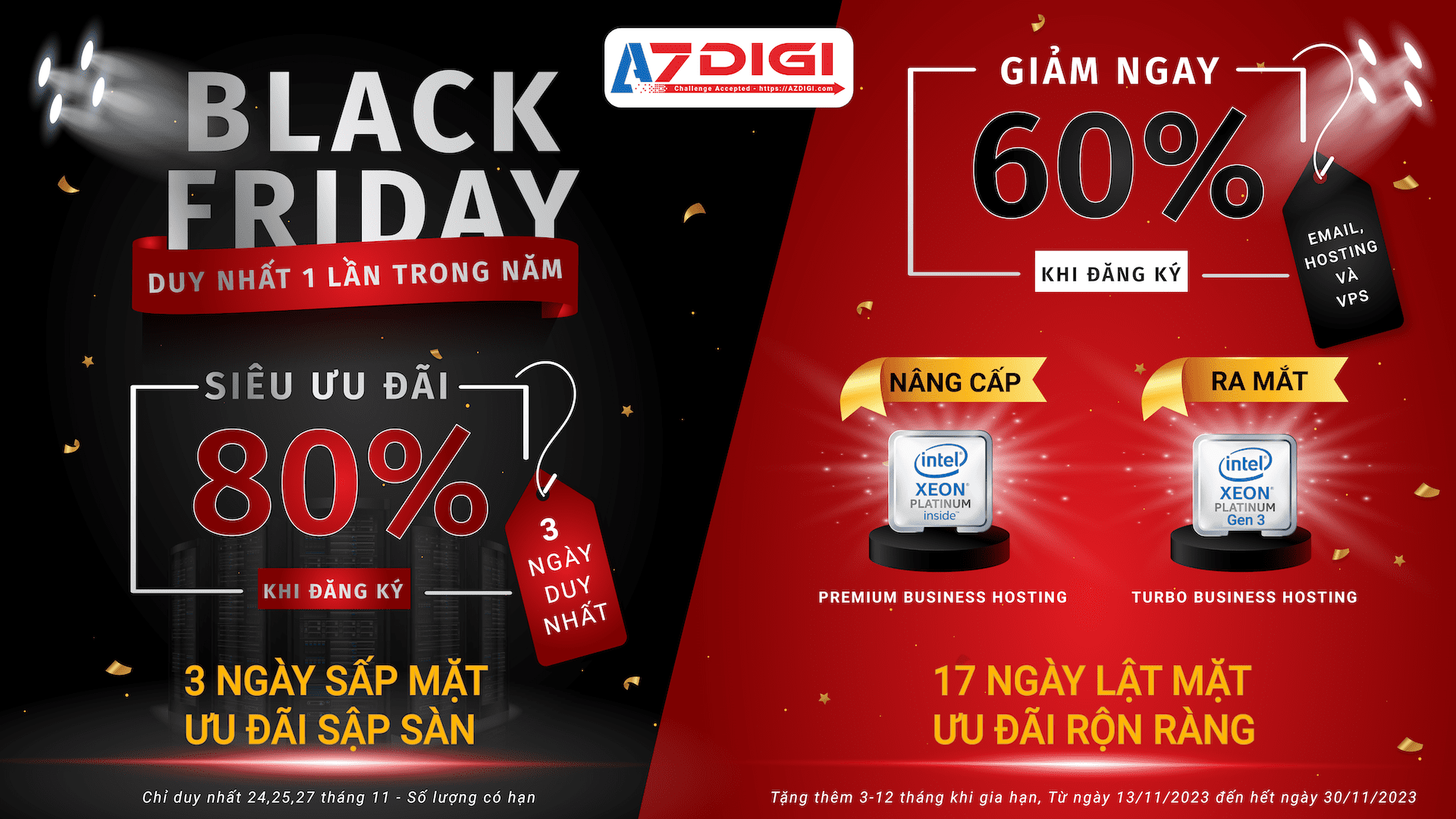 NVMe (Non-Volatile Memory Express) is a specialized protocol that allows data transmission and access on SSD drives. Its notable feature lies in fully exploiting the high-bandwidth potential of the PCIe interface, providing excellent storage capacity, data transfer speed, and exceptional compatibility. In simple terms, NVMe SSDs are designed specifically to be compatible with the PCIe slots on computer motherboards. Unlike traditional SATA SSDs, they do not use SATA connections.
NVMe SSDs have the ability to directly connect to the motherboard via the PCIe slot, delivering data transfer speeds up to 5 times faster than regular SATA SSDs. Consequently, software storing data on these NVMe drives benefits from faster access speeds.
* What is NVMe Hosting?
NVMe Hosting is a Web Hosting service that utilizes 100% NVMe SSDs and powerful processors to deliver fast and comprehensive website speed and compatibility.
NVMe Hosting is specially designed to develop and operate websites with high traffic, demanding fast read and write speeds, and rapid data processing, which standard shared hosting services cannot meet.
* Advantages of NVMe Hosting
– High Speed:
NVMe Hosting utilizes 100% NVMe SSDs with the highest speed and powerful processors to optimize website speed comprehensively, unlike traditional hosting services.
Compared to traditional SSDs using SATA connections, NVMe achieves significantly higher data transfer speeds. The PCIe 3.0 and PCIe 4.0 connections have throughputs of 16Gbps and 32Gbps, respectively. Notably, NVMe offers up to 16 lanes and data transfer speeds of up to 32,000MB/s. This means NVMe provides data transfer speeds much faster than the SATA III standard, which reaches a maximum of 600MB/s.
– High Performance:
NVMe Hosting can simultaneously support up to 64,000 data access requests at the same time. This enables NVMe Hosting to handle a large number of concurrent visitors without affecting page load speeds. As a result, slow loading, missing images, or server overload occur less frequently.
– Enhanced User Experience:
User experience plays a crucial role in the success of a business. Slow website processing leads to high bounce rates and lost revenue opportunities. The improved response time of NVMe Hosting provides a better user experience, reducing bounce rates. This creates opportunities for increased conversion rates, easier scaling, and revenue growth.
NVMe Hosting addresses this issue with high performance and fast speed. With NVMe SSDs, it accelerates processing, reduces page load times, and ensures smooth operations.
– Maximum Energy Efficiency:
NVMe Hosting not only delivers high performance but also conserves energy due to its low power consumption capability. It is a more advanced and environmentally friendly solution compared to older storage device interfaces. When not in use, NVMe Hosting can save up to 97% of energy, making it an ideal choice for cost-saving in businesses.
– Improved SEO Ranking:
High bounce rates can negatively impact a website's search engine ranking. With its large data processing capacity and optimized page loading speed, NVMe Hosting enables websites to achieve fast page load times. This helps websites receive higher rankings from Google's search engine and effectively improve SEO rankings.
– Advancements in AI Systems:
NVMe provides significant improvements to Artificial Intelligence (AI) and Machine Learning (ML) systems. With high demands for speed and processing power, businesses are transitioning to NVMe to drive their AI initiatives.
Currently, NVMe remains the only storage protocol that provides high bandwidth and low latency simultaneously, allowing for accelerated data streaming and rapid responsiveness.
How to choose reliable and quality NVMe hosting services?
In the era of digital transformation, the demand for reliable and high-speed hosting services is becoming more critical than ever for businesses. NVMe hosting is one of the leading solutions today. With Non-Volatile Memory Express (NVMe) technology, NVMe hosting delivers faster read and write speeds compared to traditional storage solutions.
Therefore, selecting a reputable and quality NVMe hosting provider is crucial and requires careful consideration. Below are some criteria you can refer to when making your decision:
– Price:
Different providers have various pricing models. Some charge based on usage, while others offer fixed-price packages. You should carefully evaluate the pricing plans and choose the one that aligns with your business needs. Also, compare price offerings from different providers to ensure you get the best value for your money.
– Feature:
Review and consider the features offered by different providers and select the ones that best suit your usage requirements. Common features that NVMe hosting providers often offer include data backups and restoration, diverse management interfaces, automatic scaling, load balancing, and security features like SSL certificates.
– Customer Support Policy:
Look for providers with 24/7 customer support teams to help you with any inquiries, assist with troubleshooting, or resolve any hosting/server issues whenever you need. Check reviews and testimonials from other customers to assess the company's reliability. You can also call and ask questions related to the information you want to know.
– Reliability:
The reliability and uptime of your website play a crucial role and need to be considered when selecting a hosting provider. Keep in mind that claims of 100% uptime are not always accurate, as unforeseen events and scheduled maintenance can result in short periods of website unavailability. Thus, consider reputable and well-established hosting providers to ensure service quality as promised.
AZDIGI is one of the leading Web Hosting service providers in Vietnam, pioneering the application of high-end NVMe SSD technology in its services. The goal of AZDIGI is to deliver the best user experience and maximize performance for customers' websites.
AZDIGI utilizes Samsung's NVMe PM9A3 SSD series, with the U.2 connector standard. Not only does this provide outstanding performance, but it also perfectly meets the criteria for using multiple drives on servers through RAID-10 setup, ensuring absolute data safety for web data.
With the advanced PCIe 4 standard support, AZDIGI's NVMe SSD can achieve read speeds of up to 6900MB/s and write speeds of up to 4100MB/s, theoretically and in an ideal environment. This powerful transformation brings super-fast data access and maximum performance to web applications.
* NVMe Hosting Packages at AZDIGI
AZ Pro NVMe is a premium product in AZDIGI's Pro lineup, aiming to deliver a high-end experience at an affordable cost.
For only 65,000 VND per month, customers can experience 6GB of NVMe storage with high speeds, along with a consistent I/O read-write speed of 100MB/s. This is a feature that is rarely found in web hosting packages priced below 100,000 VND per month.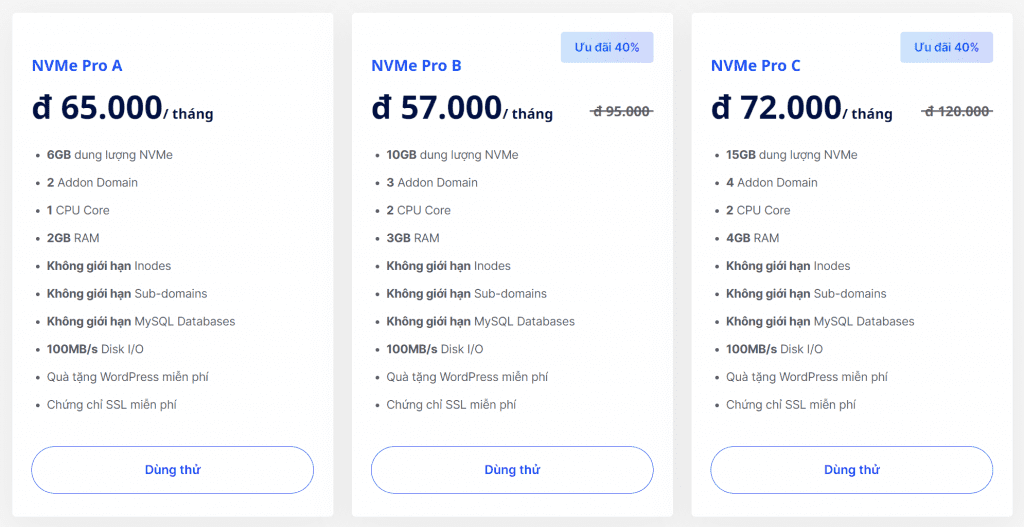 AZDIGI is a pioneer in Vietnam in providing enterprise-level hosting configurations with ample resources. Turbo Business Hosting is the most premium business hosting product with outstanding features, such as using fully NVMe U.2 RAID 10 SSDs and Intel Xeon Platinum Gen 2 processors, which are top-notch technologies specifically designed for servers. The dedicated 10Gbps private network system enhances the capacity and speed for websites.
For each Turbo Business Hosting service, AZDIGI offers up to 18 CPU cores, promising an excellent experience for websites with high data processing demands or e-commerce websites.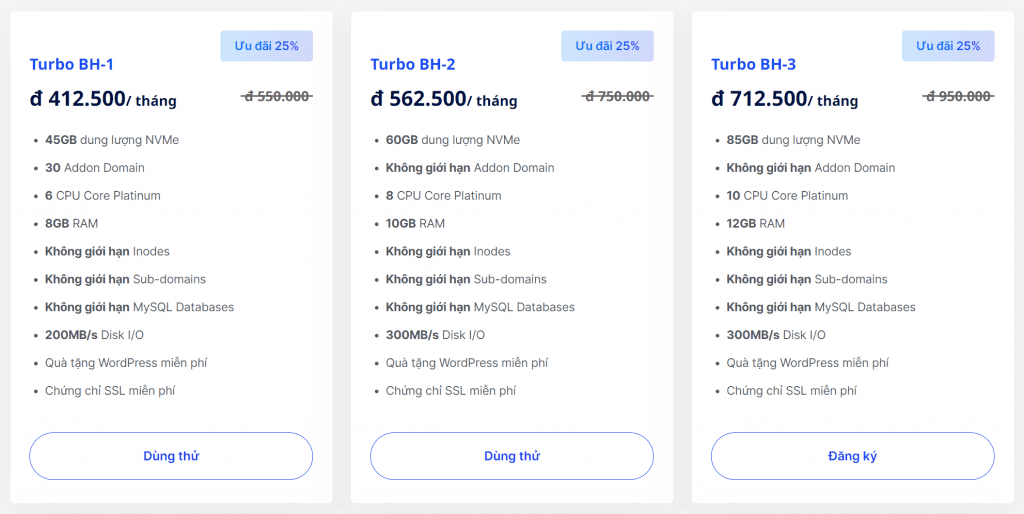 Business Hosting is a dedicated hosting service tailored for medium-sized business websites and e-commerce sites. It provides abundant resources and a powerful dedicated server system with Intel Xeon V4 CPUs and high-speed Samsung NVMe Enterprise SSDs.
The business hosting package is specially designed to meet the utmost stability for business websites, with a 10Gbps high-bandwidth network system to handle significant traffic. With high load capacity, dual premium processors, and NVMe SSDs, each business hosting package is more powerful compared to regular hosting services.
Moreover, business hosting also serves as a good alternative to more expensive solutions like VPS/Dedicated Servers, offering robust performance and integrating the best support licenses to save system administration costs.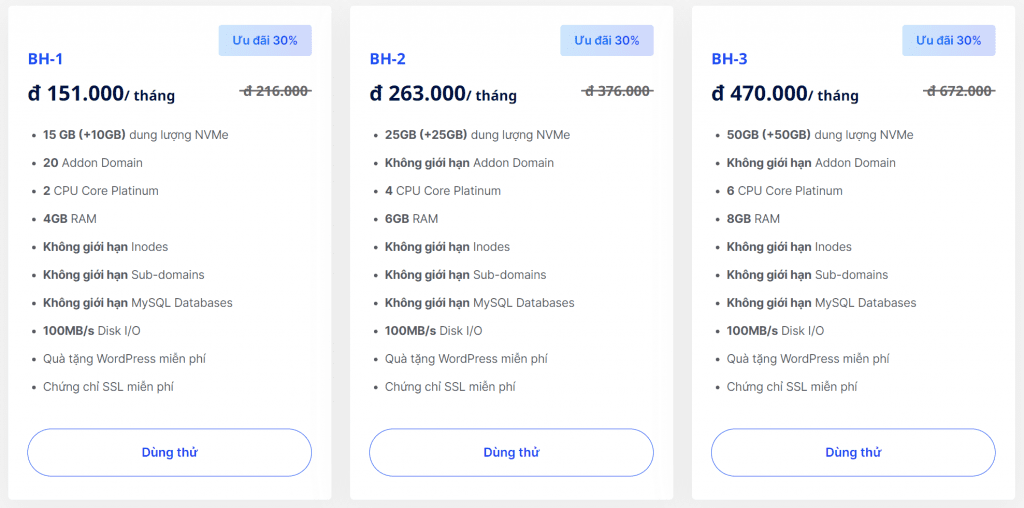 Premium Business Hosting is a high-end hosting service for businesses, optimized for cost with prices starting from 260,000 VND per month. With powerful Intel Xeon Platinum CPUs, Premium Business Hosting is an ideal choice for business websites, including online stores, blogs, or online magazines with moderate to high traffic levels.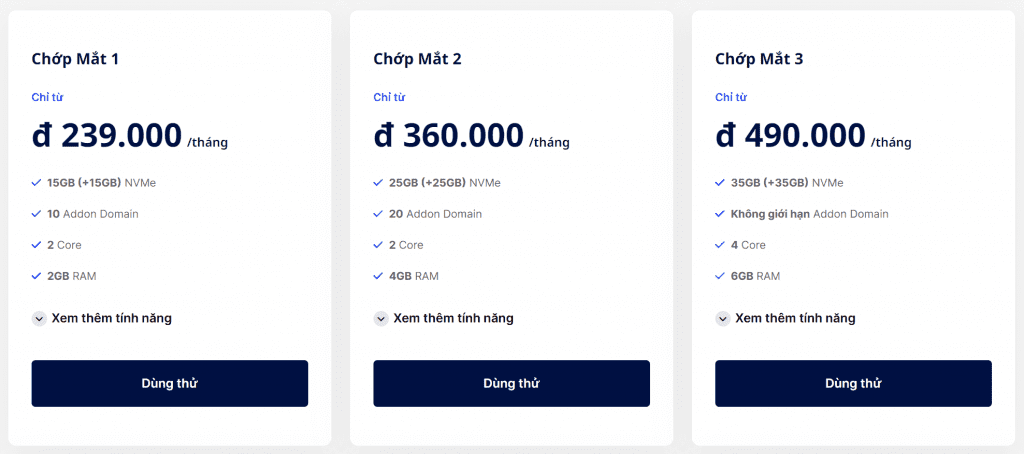 * Why should you choose to use NVMe hosting services at AZDIGI?
In recent years, AZDIGI has received numerous positive feedback and high evaluations for the quality of services it provides. AZDIGI continuously strives and innovates, listening to customer feedback to enhance service quality and deliver the best experience to its customers.
AZDIGI takes pride in being:
– A pioneer in the Web Hosting field:
AZDIGI is highly regarded for its leading Web Hosting services with new technologies and support policies that have been verified by over 40,000 customers. AZDIGI consistently upgrades and develops to provide the best experience for its customers.
– Maximum security:
With over 300,000 active websites on its system, AZDIGI maintains strict procedures to protect customer data to the necessary extent. All services ensure data safety through regular backups and off-site backups, ensuring safety against any worst-case scenarios.
– 24/7/365 technical support:
A highly skilled technical team is available 24/7 to provide maximum peace of mind for customers. All your queries will receive responses within 15 minutes. AZDIGI takes pride in being one of the best customer support providers today.
– $1600 worth of WordPress gifts:
Since 2020, AZDIGI officially offered complimentary WordPress theme and plugin licenses exclusively for its customers, such as WP Rocket, Rank Math Pro, WP Astra Lifetime, with a total gift value of up to $1600, updated annually.
– 30-day refund guarantee:
In the first 30 days of usage, you can receive a 100% refund if you are not satisfied with the quality of AZDIGI's services.
Conclusion
Choosing and purchasing a reliable and high-quality NVMe hosting service is a crucial factor in determining the success of your website. By researching and applying criteria such as reliability ratings, performance, customer support policies, and user reviews, you can find a trustworthy provider that suits your needs.
NVMe hosting services at AZDIGI not only offer fast read/write speeds, powerful data processing capabilities, and high-level security but also provide an outstanding user experience, ensuring that your website operates smoothly and efficiently. With advanced technology and top-notch services, AZDIGI is committed to delivering optimized hosting services to enhance the performance and success of your website.