What is Imunify360?
Imunify360 is a new generation security solution specially designed for servers on Linux platform, it is developed by CloudLinux Inc. With 6 factors of security, Imunify360 provides a comprehensive security solution against malicious attacks on the server system.
Installation Requirements
The operating system, hardware, host panel and browser requirements for installing Imunify360 are listed below:
Operating system
CentOS/CloudLinux 6 and above.
RHEL.
Ubuntu 16.04 or 18.04.
Hardware
Control panels have built-in interfaces
cPanel.
Plesk – But Plesk 12.5 is not supported with Imunify360 3.8.5.
DirectAdmin – Supports Imunify360 version 3.1.3 and above.
Browser Requirement
Safari version 10 and up.
Google Chrome version 39 and up.
Firefox version 28 or later.
Edge version 17 or later.
Why should you use Imunify360?
For along, malware/virus has been a dilemma for website users, especially popular open-source like WordPress. Websites using open source code like WordPress are often vulnerable to malware/viruses from plugins, themes of unknown origin being pre-installed by hackers or exploited from a vulnerability when installing them on your website.
So in case your website is infected or suspected of being infected with malware/virus, what should you do? Most of today's ShareHosting services have pre-installed scanning and malware removal features directly on the host, specifically at AZDIGI, you will have a built-in Imunify360 to process this problem. However, if you use VPS, things will be much more difficult because when using VPS, most of these services will not be supported with pre-installed malware/virus scanning software that you have to install yourself to protect as well as handle your VPS without using additional server administration services.
So how can I integrate more Imunify360 software into VPS, specifically VPS that uses CyberPanel control to handle malware and viruses in a timely manner easily? In this article, AZDIGI will guide you through the steps to install Imunify360 on CyberPanel in the simplest way.
Note: Because CyberPanel currently does not support the Imunify360 interface like DirectAdmin, Cpanel, and Plesk controls, we have to manage Imunify360 through a browser operation.
Implementation Guide
Step 1: Prepare Key Imunify360
To install Imunify360 on DirectAdmin, you must have a license key to be able to install it. If you want to try it first, you can register for the Trial License of Imunify360 at the link below:
I have completed the Key Trial License registration and been given the Key information as below: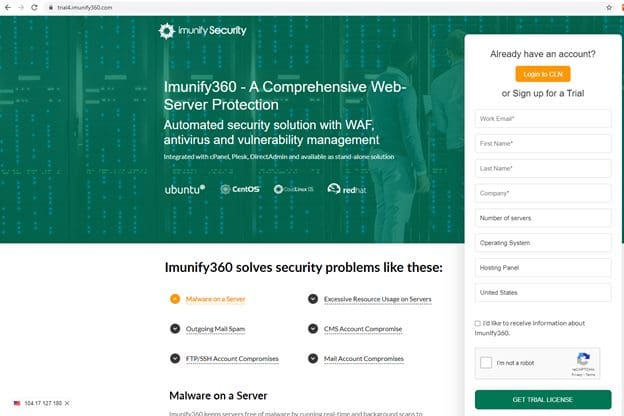 You need to fill in the following information:
Work Email: enter your email
First Name
Last Name
Company: enter your comapy name
Number of servers: you choose the number of servers you want to install Imunify360 on (For example, if I install on 1 server, I choose option 1-4 servers)
Operating System: you choose the version of the operating system (OS) running on your server.
Hosting Panel: you choose the control panel you are using
United States: select your country
After filling in all the necessary information, tick the last and press GET TRIAL LICENSE to activate the key. After successful registration, you will receive information as shown below:
1. Your Key Information.
2. The information includes the link and user/pass to log in to the Imunify360 service administration page.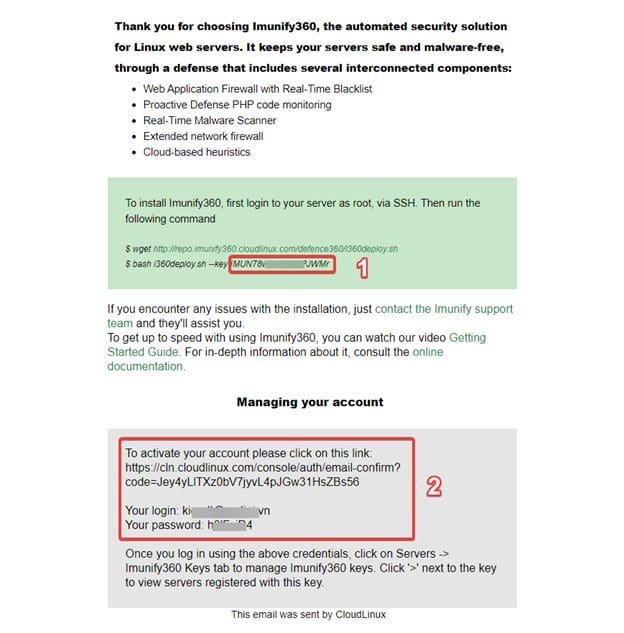 That's it, the preparation of the Key has been completed.
Step 2: Check the operating system
First, you need to SSH into the VPS as root, if you don't know how to SSH, you can refer to the instructions below:
Since Imunify360 is a feature developed by CloudLinux, the first thing you want to use this feature you need to convert CyberPanel's default operating system to CloudLinux OS (this is a requirement of the CyberPanel developer). So how to check and convert the operating system to CloudLinux OS, you can check out the tutorial article below:
Step 3: Install Imunify360
After you have the Imunify360 Key and the operating system has been converted to CloudLinux OS, you can install it by accessing Cyber Panel => Security => Imunify 360 => Imunify Key.
Enter the Key you prepared in Step 1 and click Install Now to proceed with the installation.

The installation process will take place as shown below: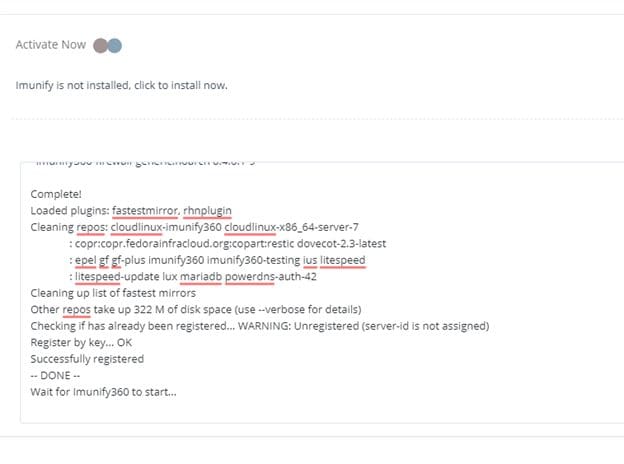 The installation process will take about 5-10 minutes. When the installation is complete, the screen will appear as follows:

You click on Access Now to go to the Imunify360 interface on the VPS, then use the root information of the VPS to log in.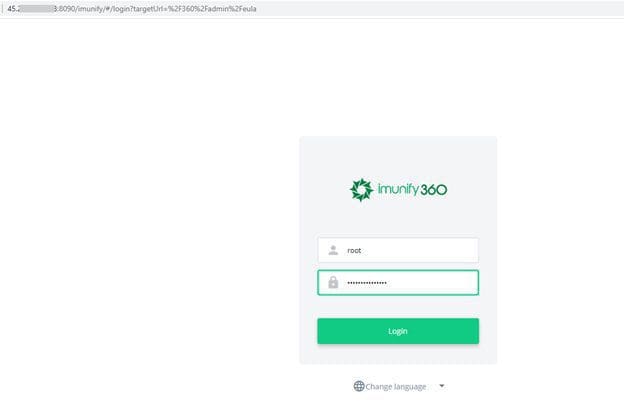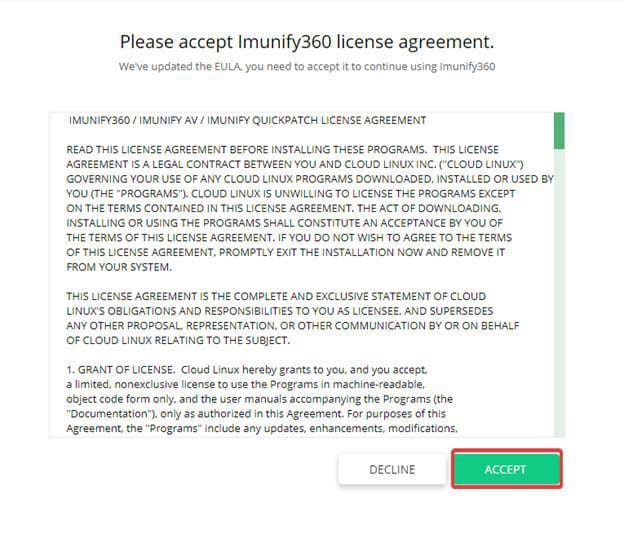 Click ACCEPT to continue.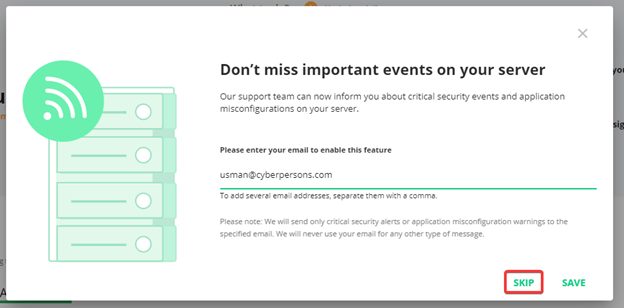 Here the system asks if you want to receive information about new events from Imunify, you can click SKIP to skip this part, or if you want to receive information, enter Email and press SAVE.
So we have completed the installation of Imunify360 on VPS using CyberPanel, to use the basic feature of Imunify360 is to scan malicious code, you can click on the Malware Scanner (1) tab, here will have the features (2):
USER: Scan by the user.
FILES: Displays malware files to the scannable system.
SCAN: Scan according to the specified path.
HISTORY: Scanning history.
IGNORE LIST: Set the path for Imunify360 to ignore when scanning.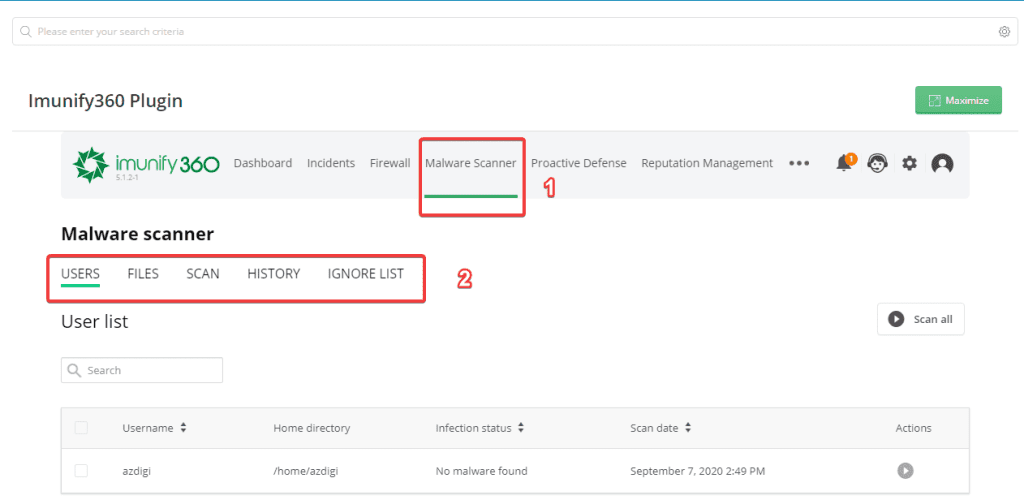 In more detail about how to use it as well as learn other features, AZDIGI will guide you later in another article.
Step 4: Customize ModSecurity with Imunify360
If you have ModSecurity installed on CyberPanel and for Imunify360 and ModSecurity to work well together, you need to customize ModSecurity as follows:
At the Cyber Panel interface, select Security => ModSecurity Conf =>and turn on SecRuleEngine.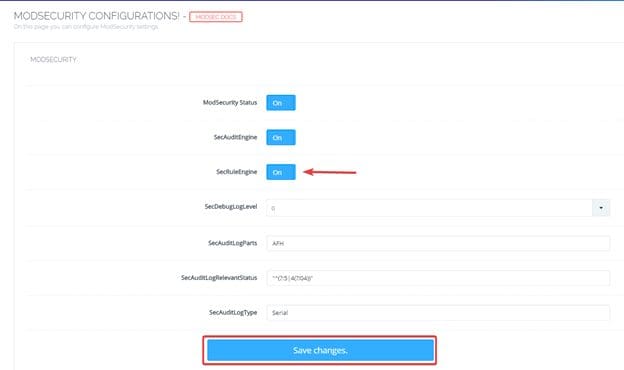 Next, go to Security => ModSecurity Rules => copy the line below and paste it in (1) => click Save Rules! (2)
IncludeOptional /etc/sysconfig/imunify360/generic/modsec.conf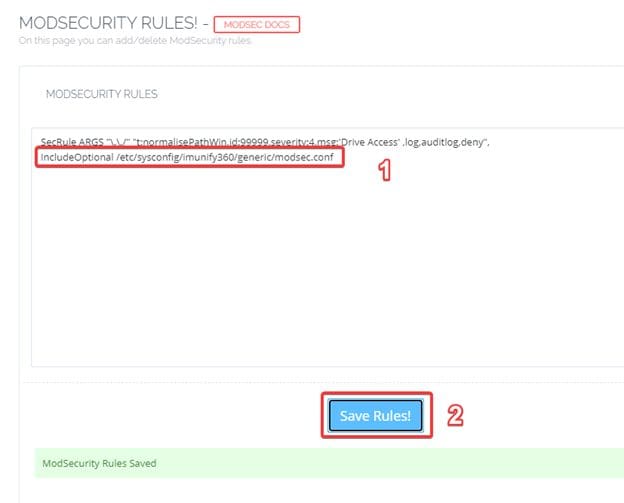 You go to Security => ModSecurity Rules Packs => turn off the following 2 customizations:

So we complete the ModSecurity setup so Imunify360 can work well on CyberPanel.
Summary
So in this article, AZDIGI has shown you how to completely install Imunify360 on Cyber Panel in the simplest way. Imunify360 will help you a lot in the early detection of malicious code so that you can handle it early with your website. If you find this helpful article, please share it widely.
Wishing you success!
If you need assistance, you can contact support in the ways below: