To enhance security, improve service quality and create added value, AZDIGI has integrated Imunify360 security technology based on AI and Machine Learning technologies.
Imunify360 is a new generation security solution specially designed for Linux Web Hosting servers, Imunify360 is developed by CloudLinux Inc. With its 6 layers of security, Imunify360 provides a comprehensive security solution against malicious attacks on the server system.
Features of Imunify360
Firewall: Advanced firewall with swarm immunity and artificial intelligence to detect new threats and protect all servers running the software – defense against brute force attacks, DoS attacks, and port scans.
Intrusion Detection and Protection System: Intrusion detection and protection system – a comprehensive collection of online denial policy rules to block all known attacks.
Malware Scanning: The file system automatically scans for malware and quarantines infected files.
Website Reputation Monitoring: Monitor the website, analyze if the website or IP is blocked by any blacklist and notify if any.
If a user violates Imunify360's security rules (trying to enter a wrong password,…), then Imunify360 will automatically block access to this user's IP address, adding the IP address to it. Gray List and redirect that user to the Captcha access page.
NOTE: If the user tries to access the HTTP port (#80), you will see a CAPTCHA. After entering the correct CAPTCHA, Imunify360 will remove that user from the Gray List. In case of multiple violations, the IP address will automatically be added to the Gray List again.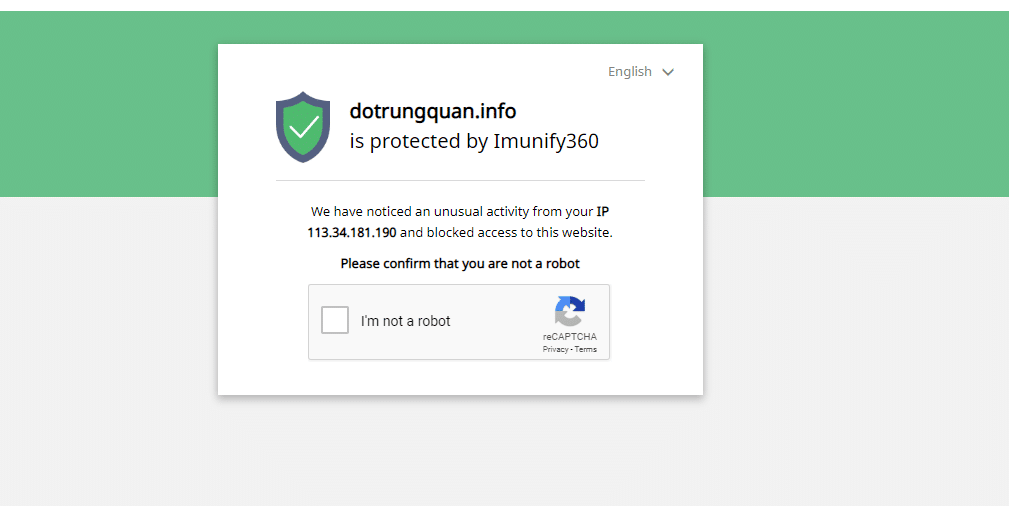 Admin can remove any IP address from Graylist and add to Whitelist if needed. In this case, the user will not be blocked for attempting to violate the Imunify360 security rules.
In a nutshell, reCAPTCHA uses advanced risk analysis technology and Google's artificial intelligence to determine if it's a human or a password sniffer bot.
Example: If a person actually tries to log in with their password multiple times and logs in incorrectly, the user will be automatically redirected to the reCAPTCHA page to check.
How to use Imunify360
Access your cPanel hosting control in the SECURITY section => find the Imunify360 feature.

Here, if your hosting is infected with malware, the system will automatically search and show you the screen as follows:

You will see files infected with malware.
At Imunify360, you can perform the following functions:

View file: This shows the contents of this file.
Move file: Move this file to a quarantine (this quarantine will not be affected by the malware you have been infected with)
After moving this file, if you want to get the file back, you can restore it as shown below.
Delete permanently: you can click this button to delete it.

Wishing you success!