In this tutorial, AZDIGI will help you change the DirectAdmin IP address most simply and easily.
I. Introduction
In some cases, you need to change the IP address of the DirectAdmin server, such as restructuring the network infrastructure, moving the server to a new data center, changing IPs in bulk for domains on the server. Or simply, your IP is revoked and you restore the server to a new IP.
Then this is the article for you.
II. Change DirectAdmin IP Address
To change the DirectAdmin IP Address, follow these 3 steps.
Step 1: Change IP License DirectAdmin information
First, you will need to contact your DirectAdmin license provider to change the DirectAdmin server IP address. Include your old IP address, LID and UID.
Next, you will need to start the server with the new IP address and ensure your server has successfully connected to the internet.
Step 2: SSH into your DirectAdmin system
After the license DirectAdmin provider has changed the IP of the license for you and your server has started with the new IP, we first need to SSH or access your VPS/server with rootprivileges. Or access the server with a user with privileges. sudo. If you don't know how to SSH into your VPS/Server, you can refer to the following tutorial:
After successfully SSH, we continue with step 3 to perform commands to change the DirectAdmin IP address.
Step 3: Commands to change DirectAdmin IP address
Commands to change the DirectAdmin IP address are relatively simple. You just need to run the following commands and change the information:
Replace 1234 with UID.
Replace 56789 with LID.
Replace 1.2.3.4 with the old IP, 4.3.2.1 with the new IP.
Here are the commands we will execute:
cd /usr/local/directadmin/scripts 
./getLicense.sh 1234 56789
/etc/init.d/directadmin restart
./ipswap.sh 1.2.3.4 4.3.2.1
    
Explanation of the above commands:
Command 1: Move into the

scripts

directory.
Command 2: Update License DirectAdmin (1234 is UID and 56789 is LID)
Command 3: Restart the DirectAdmin service.
Command 4: Change the IP addresses of the domains on the server from the old IP to the new IP.
Below is the progress: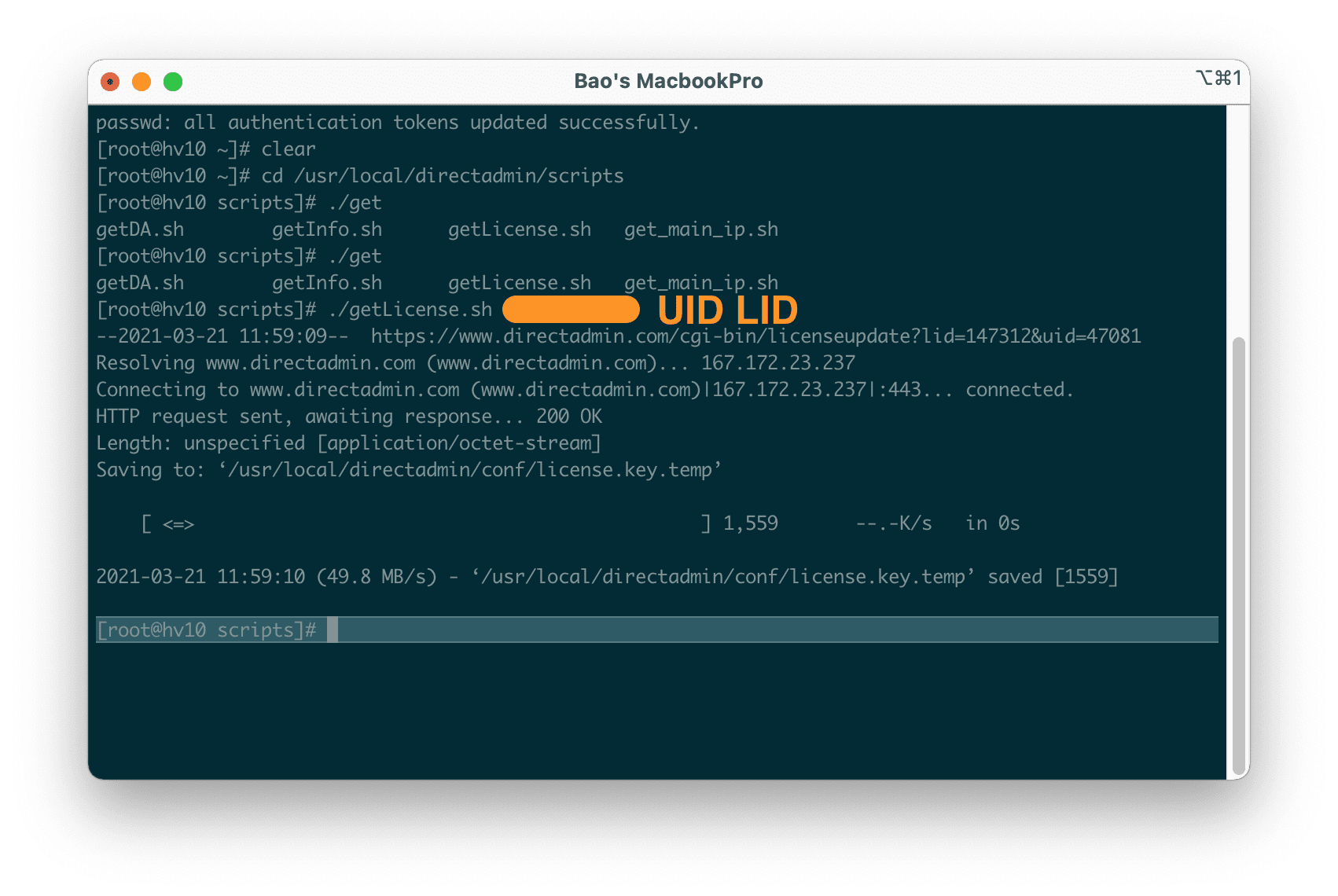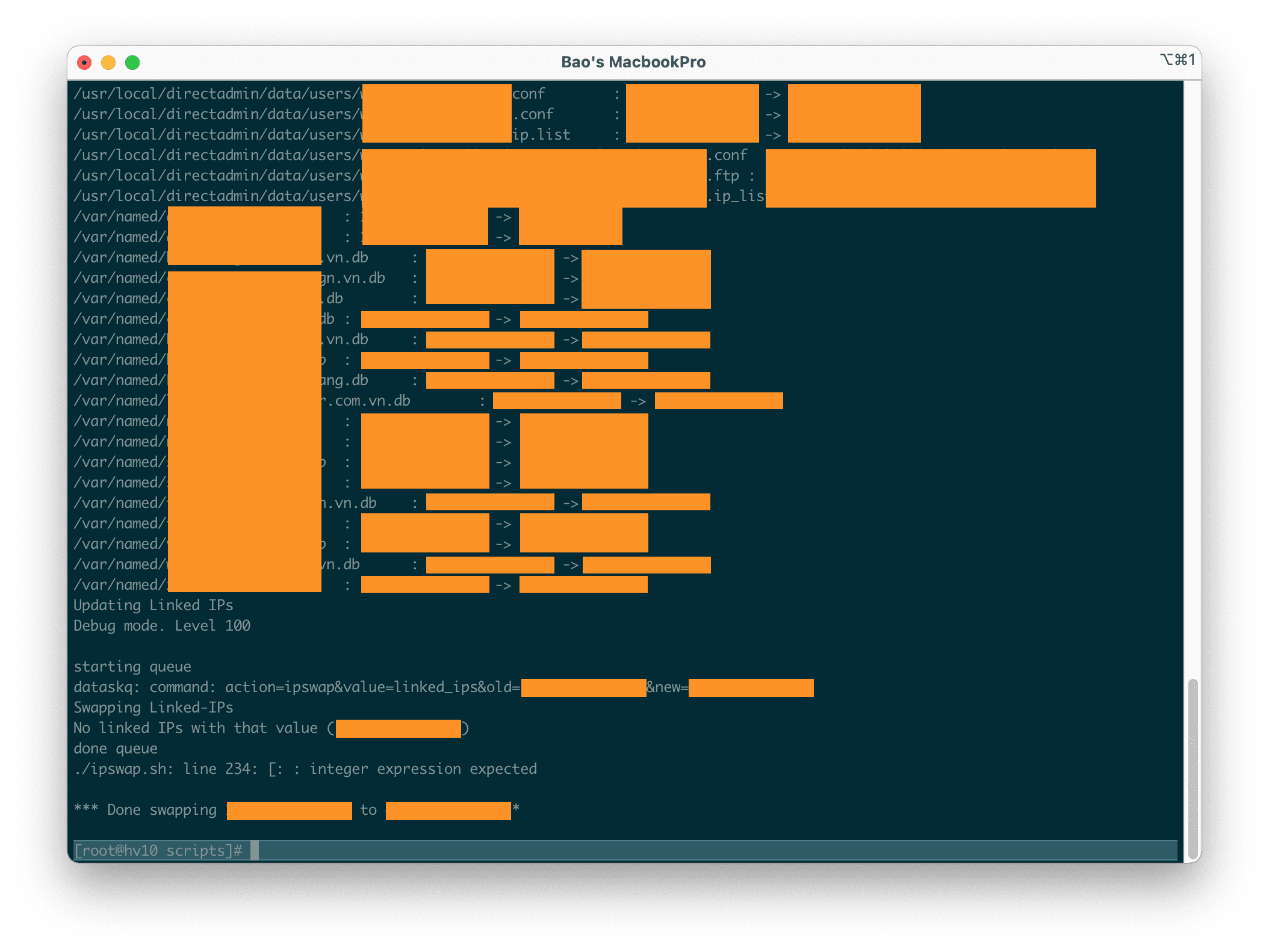 After fully implementing the above 4 commands, you just need to point the domain names to the new IP address and the websites will work again.
If necessary, restart all additional services such as:
httpd
proftpd
exim
dovecot
In addition, if your DirectAdmin server uses multiple IP addresses, you can completely use command 4 for exchanging domain names from the old IP to the new IP.
III. Summary
So with the above 3 steps, you can help simplify the change of the DirectAdmin server from one IP to another.
Hope this article will be of help to you. Wishing you success!
See more useful articles about DirectAdmin at the following link:
If you need assistance, you can contact support in the ways below: