Overview
What is PrestaShop?
PrestaShop is a completely free e-commerce solution from the open-source community. With this free platform, you can create your eCommerce without coding. According to Wikipedia, PrestaShop currently powers 165,000 websites. Based on the MySQL, PHP and Smarty template engines, this CMS won the award for best open-source business application in 2010 and 2011.
Advantages of Prestashop:
Full functions of an online sales website: add, edit, delete, product statistics, manufacturers, distributors, customers…
Monitor sales status, notify customers by SMS messages, collect customer information, etc.
Applicable to many different payment methods with popular circulating currencies.
Fast loading and processing speed. Safe and secure.
Friendly URLs, SEO search engine optimization, CMS content management…
You don't need to worry about software costs or copyright issues because Prestashop is free and open-source software.
Regularly update newer versions to fix bugs and add new functions and modules.
Easy website administration with relatively complete tools and a convenient navigation panel.
Easy to integrate and expand into developing independent modules
Friendly interface, easy to use, can design independent interface.
Support many popular languages, including Vietnamese, users can build their own language packs to suit their needs. PrestaShop e-Commerce uses Web 2.0 technology with AJAX, JQuery library power. Prestashop also uses the Smarty framework to help web designers create interfaces easily without knowing much PHP programming language.
Disadvantages of Prestashop:
The ability to manage URL-rewrite is relatively weak, with no custom extensibility. As a result, it significantly reduces the SEO ability of the website.
PrestaShop's search algorithm is considered quite weak compared to other open sources.
Extensions architecture support for self-developed 3rd party is relatively weak.
Why should you use Prestashop?
The outstanding advantage of Prestashop is that it is very easy to use. You can set up your own online store from colors, logos to the general look and feel of each subsite without any problems. PrestaShop is sure to fully meet your expectations whether the client is a professional company or an individual.
In this article, AZDIGI will show you how to install a free Prestashop website with Softaculous on cPanel, follow the steps below.
Implementation Guide
Step 1: Access Softaculous

Step 2: Install Prestashop
At the Softaculous interface, you search PrestaShop in the search box (1) => PrestaShop (2) => and click Install Now (3) to perform the installation.
At the next interface, you need to fill in the following information: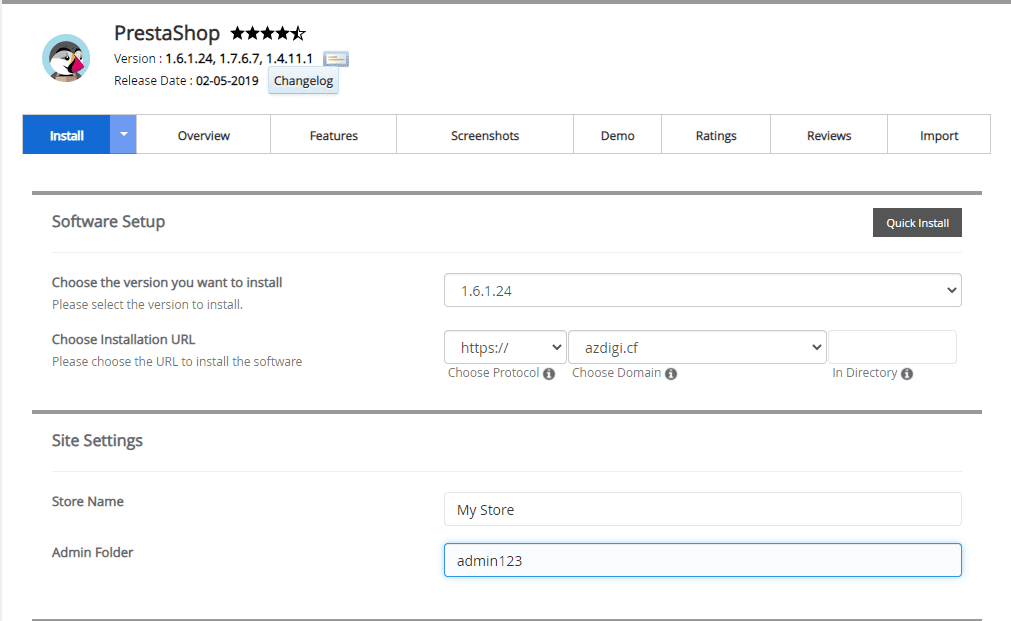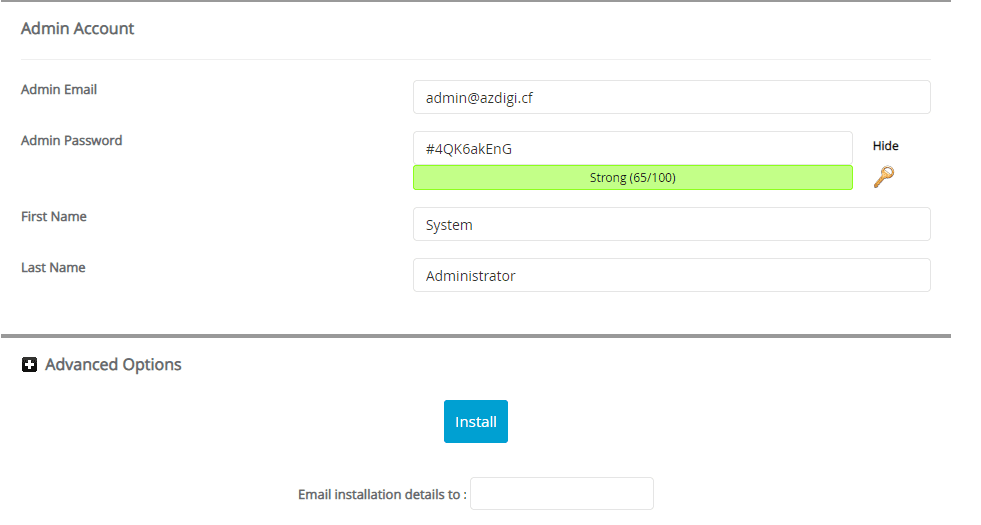 In there:
Choose the version you want to install: You choose the version of Opencart to install
Choose Installation URL

Choose Protocol: Choose https if the site has SSL installed or vice versa choose http if SSL is not installed
Choose Domain: Select the Domain to install
in Directory: Leave this field blank

Store Name: Your store name
Admin Folder: Here you set the path to access the website admin page
Admin Email: Website admin login email.
Admin Password: Website admin password
First Name: User's name
Last Name: User's last name
After filling in all the information, click Install to proceed with the installation.

When the installation is complete, you will get the admin page information as below: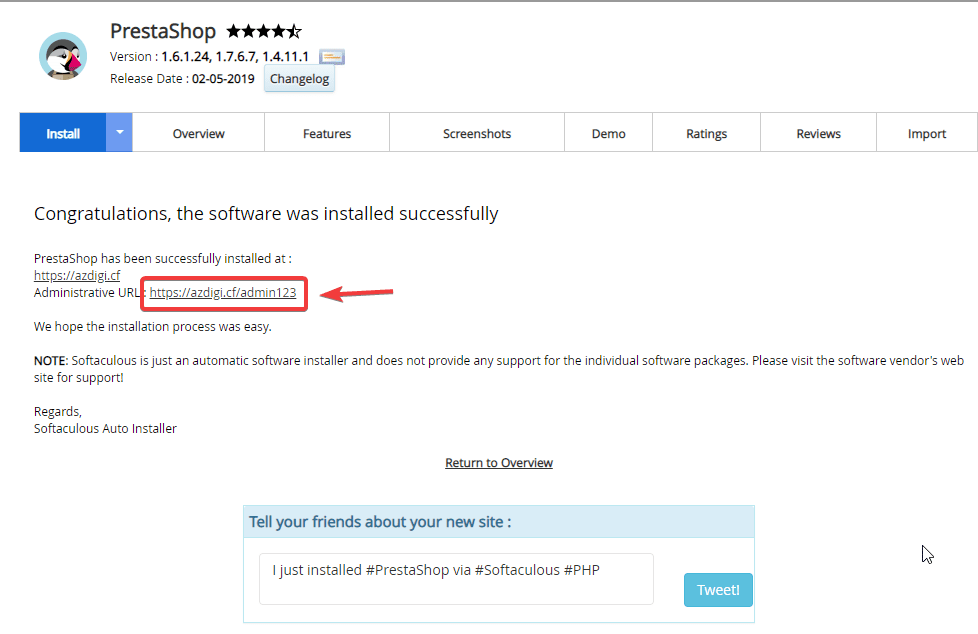 Step 3: Check the website and log in to the website administrator
After the installation is complete, the website will have an interface: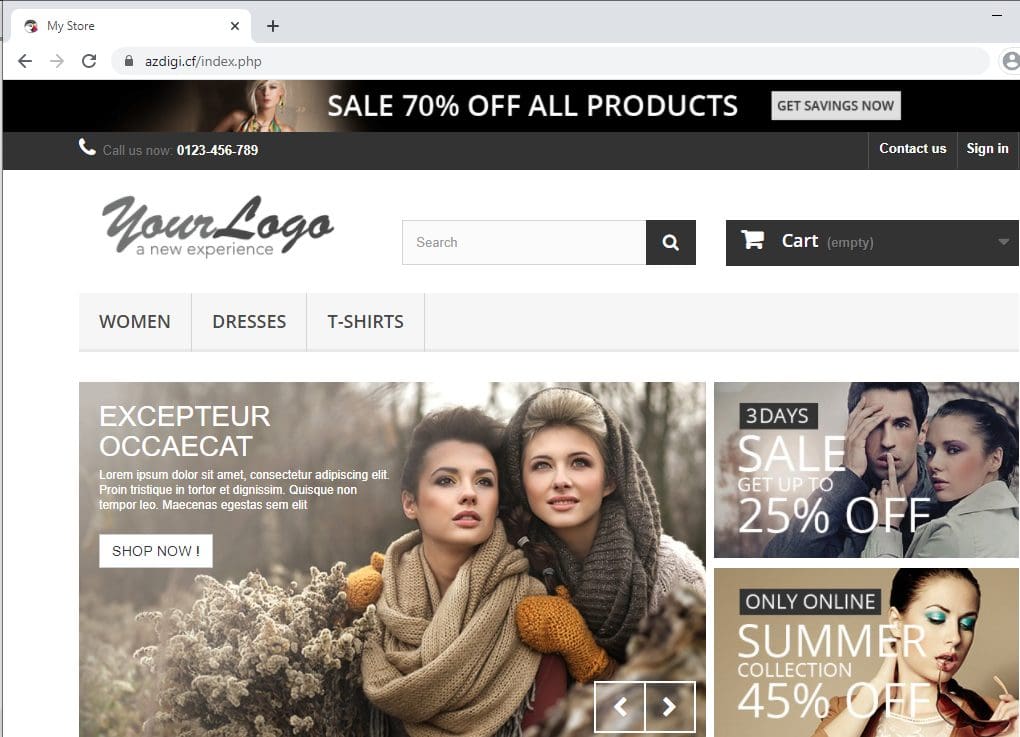 To access the admin page, you access with the path: http://yourdomain.com/admin123 (admin123 is PrestaShop's default, if in Step 2 of the Admin Folder section, you enter what is the path, you access it with that path).
You use the information below created in Step 2 to log in:
Admin Email: Website admin login email.
Admin Password: Password to administer the website.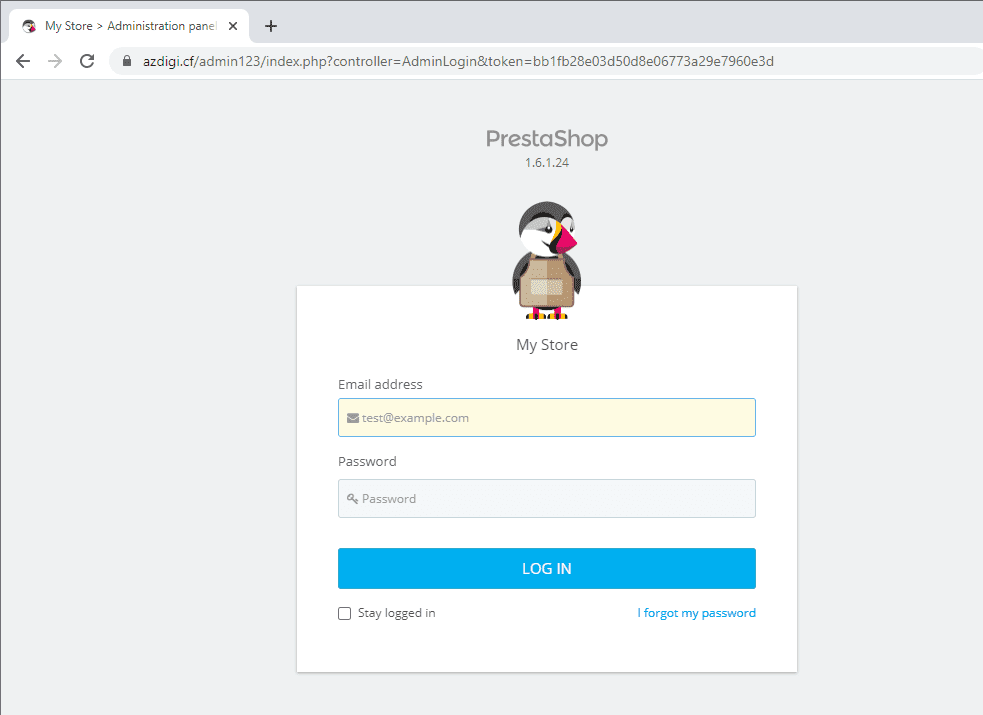 After successful login, the admin interface will display as shown: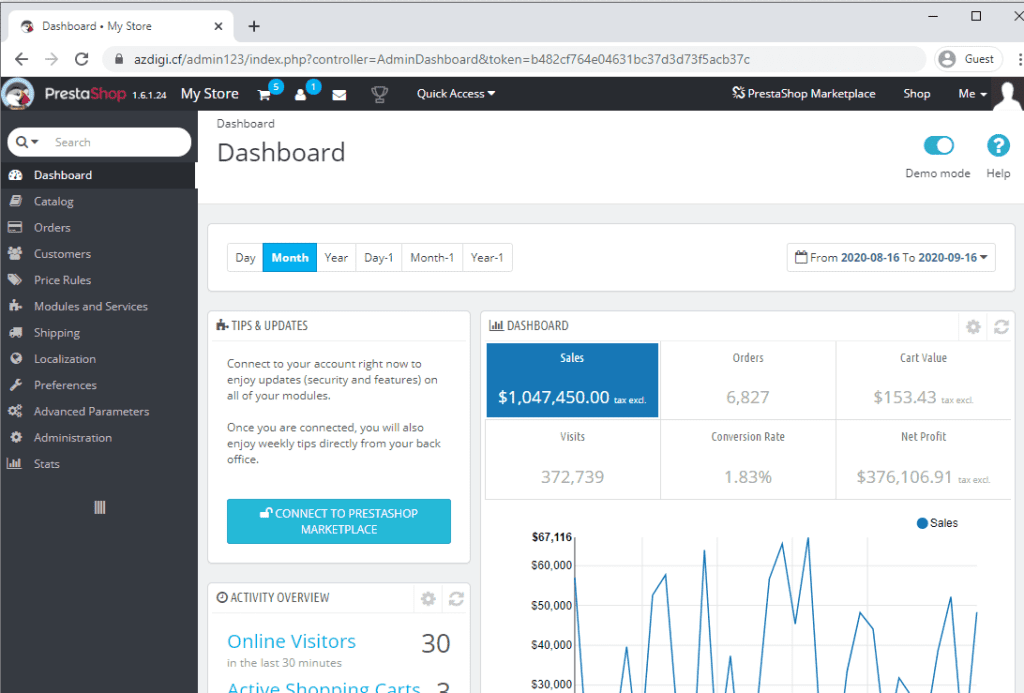 How to remove the PrestaShop website installed on Softaculous
Step 1: Access Softaculous
First, log in to cPanel => SOFTWARE section => Softaculous Apps Installer.

Step 2: Remove the website
At the Softaculous interface, you will see the websites that have been installed through Softaculous, you find the website to be removed and click the corresponding X, as shown below: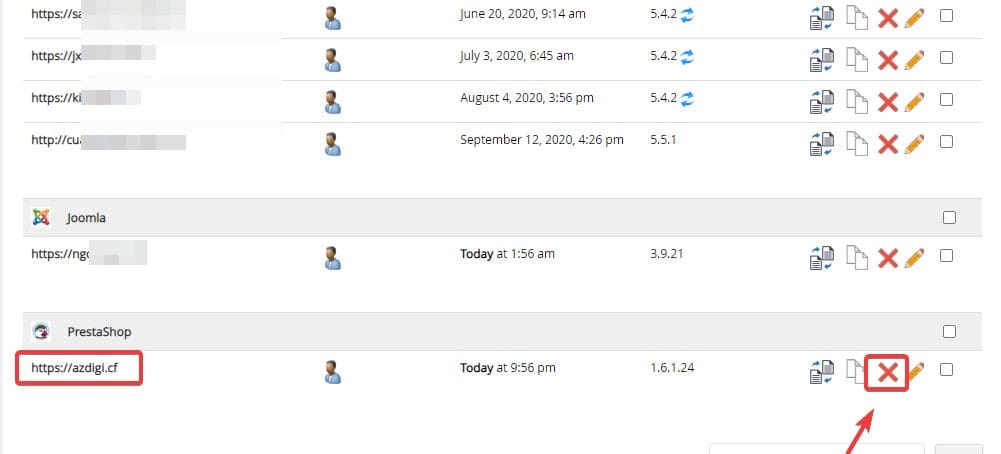 In the next window, select Remove Installation.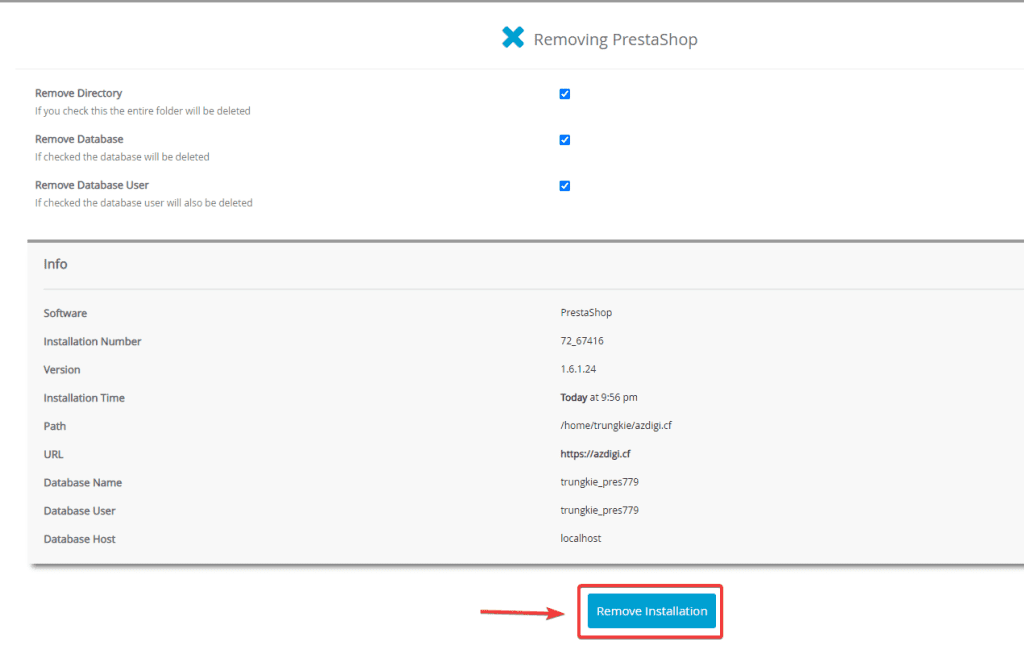 You receive the message shown below, which means the removal was successful.

Summary
Thus, AZDIGI has shown you on installing PrestaShop source code on a complete website through the Softaculous tool on cPanel. In the next articles, AZDIGI will guide you more specifically on how to use the PrestaShop website. If you find the article helpful, please share it widely.
Wishing you success!
If you need assistance, you can contact support in the ways below: