What are Addon Domain and SubDomain?
Addon domain: is a type of domain name added to hosting, has the same function as the primary domain and works completely independently. An addon domain will help us easily manage multiple websites on the same host, saving costs compared to using a domain on each host.
Subdomain: is a part separated from the primary domain, the created subdomain will operate completely independent of the main domain. If you want to create a standalone website and still want this new domain to have the name of the primary domain, you should use a subdomain (e.g., kythuat.azdigi.cf).
Lưu ý: For the addon domain and subdomain to work, you need to point the addon domain and subdomain to the host IP.
1. Add Domain Addon to DirectAdmin
First, go to Account Manager => select Domain Setup.

Continue to click ADD NEW.

You fill in the new domain information to the addon => click CREATE to create a domain.

Receive the message below that you have successfully added the domain.

When you add an addon domain, the system will automatically create a directory named that domain itself, this is where you need to upload data for the website to work.
2. Add SubDomain to DirectAdmin
First, go to Account Manager => Subdomain Management.
Next, click ADD SUBDOMAIN.

At this screen, enter Subdomain's name to create and press ADD SUBDOMAIN button to create.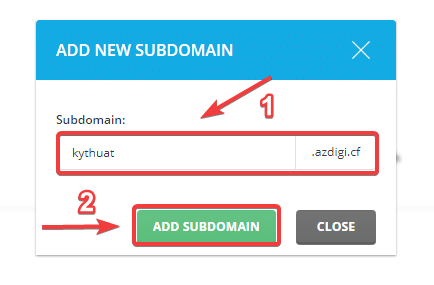 After successfully creating the subdomain, it will automatically create a directory named that subdomain itself. In the example above, AZDIGI has created a subdomain named kythuat.azdigi.cf , then the system will create a directory named kythuat which will be in the root domain directory (azdigi.cf). This directory will be the directory containing the source code of the subdomain.

So in this article, AZDIGI showed you how to quickly and easily add addon domains and subdomains on DirectAdmin. If you have a problem or difficulty at any step, you can send a ticket to our Technical Team to support.
Hotline 247: 028 730 24768 (Ext 0)
Ticket/Email: You can use your email to register for the service and send it directly to: support@azdigi.com
Wishing you success!