After extensive research on various technologies, AZDIGI officially launched a new dedicated virtual server service on the cloud computing platform named Turbo Cloud Server on November 25, 2020. This service replaces the old Cloud Server service with numerous advantages in terms of performance and data security, as well as being designed for immense scalability in the future.
Following the launch of this service, AZDIGI will temporarily suspend new registrations for the old Cloud Server service, while existing customers using this service will continue to be supported as usual.
Let's explore the details of the Turbo Cloud Server service and its outstanding capabilities together with AZDIGI.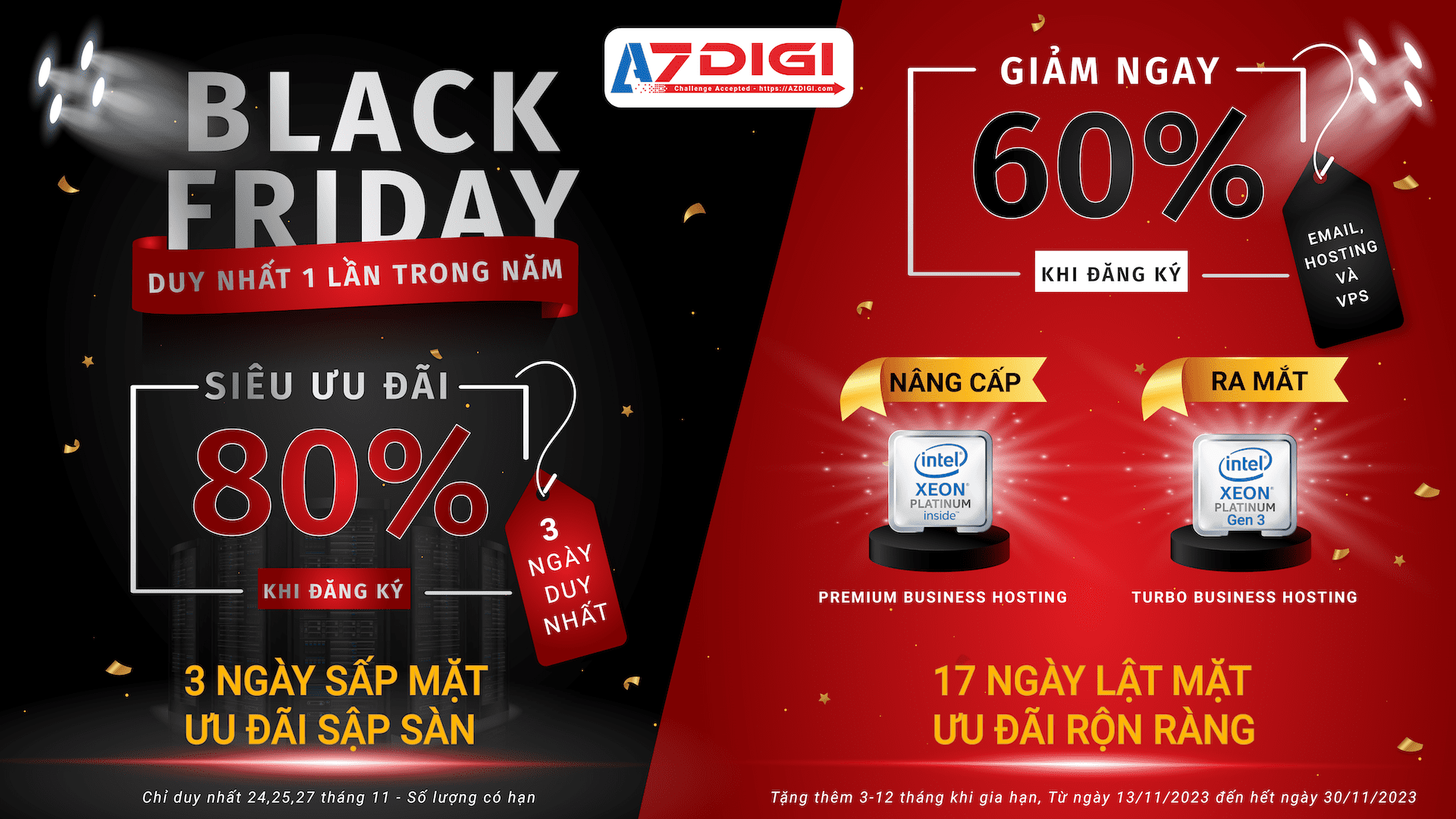 Register for Turbo Cloud Server service at https://azdigi.com/pro-vps/turbo-cloud-server/.
What is Turbo Cloud Server service?
Turbo Cloud Server is a high-quality Virtual Private Server (VPS) service operating on the Cloud Computing platform. Its purpose is to provide customers with a VPS service that offers maximum stability and superior performance compared to any regular VPS service.
Key Features and Characteristics of Turbo Cloud Server
KVM Virtualization
The VPS on the Turbo Cloud Server service utilizes full virtualization with KVM, allowing true virtualization of resources based on hardware. Each KVM-based virtual machine operates independently as a physical server and is compatible with popular operating systems such as Linux, Windows, and even macOS.
Although currently, AZDIGI only provides pre-installed Linux operating system packages, customers can also install their desired operating system using .iso files.
High Performance
Turbo Cloud Server is built with two completely separate server clusters: one cluster serves the purpose of providing CPU and RAM resources to create virtual machines, and the other cluster is dedicated to storing data for those virtual servers.
Thanks to this segregated infrastructure, VPS instances in this service consistently achieve maximum performance by eliminating bottlenecks commonly found in regular VPS services.
The Turbo Cloud Server service currently utilizes Intel Xeon v4 chipsets to provide CPUs for virtual machines, ECC DDR4 system for delivering internal memory, and the storage cluster employs enterprise-grade SSD drives with advanced fine-tuning to achieve read/write speeds of up to 1GB/s for each VPS.
High Availability
High availability is a mandatory factor in every Cloud Computing system that helps minimize potential risks that may disrupt service operations. On the Turbo Cloud Server system, high availability is synchronized across both the virtual VPS server cluster and the storage server cluster.
The VPSs are virtualized on a cluster of servers, and AZDIGI maintains a higher number of idle servers compared to the active ones. This ensures that if any server experiences a malfunction, all the VPSs on that virtual server will automatically be transferred to another server within the cluster to continue operations.
The storage server cluster also maintains an excess number of servers to ensure that if any server in the storage system encounters a malfunction or even a hard drive failure, the data remains unaffected.
With this dual-system architecture, the risk of disruption is minimized to the lowest level. To cause a VPS disruption, at least four servers on both clusters would need to experience failures simultaneously. This is highly unlikely as AZDIGI constantly monitors the server system in real-time, ensuring immediate resolution of any server issues.
Providing Large Resource VPS
The Turbo Cloud Server system is designed to establish a VPS system with high compatibility and immense scalability for future expansion, enabling the provision of larger resource solutions for customers in need.
Currently, the service can offer up to 8 CPU cores, 32GB of RAM, and 400GB of SSD storage for default configurations on each VPS. In the future, as the system expands to meet the required threshold, AZDIGI will allow customers to purchase additional SSD storage, CPU, and RAM.
Free Automatic Data Backup
While most unmanaged VPS services require customers to provide their own backup solutions, this is entirely free for Turbo Cloud Server users.
All VPSs are automatically backed up once a week and stored in two different copies. This means you can restore data up to 2 weeks prior on your VPS.
In addition to AZDIGI's automated backup system, customers can also create their own backups directly through the management portal at https://my.azdigi.com. Each VPS is allowed to store a maximum of 2 backup copies (excluding AZDIGI's backups).
These backup copies are stored within AZDIGI's system and can only be accessed on the system. AZDIGI cannot provide individual backup data directly to customers, but can only restore them to the VPS on the system. Therefore, AZDIGI also recommends that customers equip their VPS with an internal backup solution to have direct control over their data.
5-Second Live Snapshot
Another useful feature for Turbo Cloud Server users is the ability to actively capture the state of their VPS at any given time and restore it as needed. This feature is particularly beneficial when customers need to make changes to their VPS and want to capture its state for restoration in case of any errors.
Currently, AZDIGI allows each VPS to store one snapshot.
Intuitive Service Management Interface
Customers have full control over their Turbo Cloud Server service directly on the user-friendly management page at https://my.azdigi.com. The interface is designed for easy navigation and provides all necessary functions for service administration.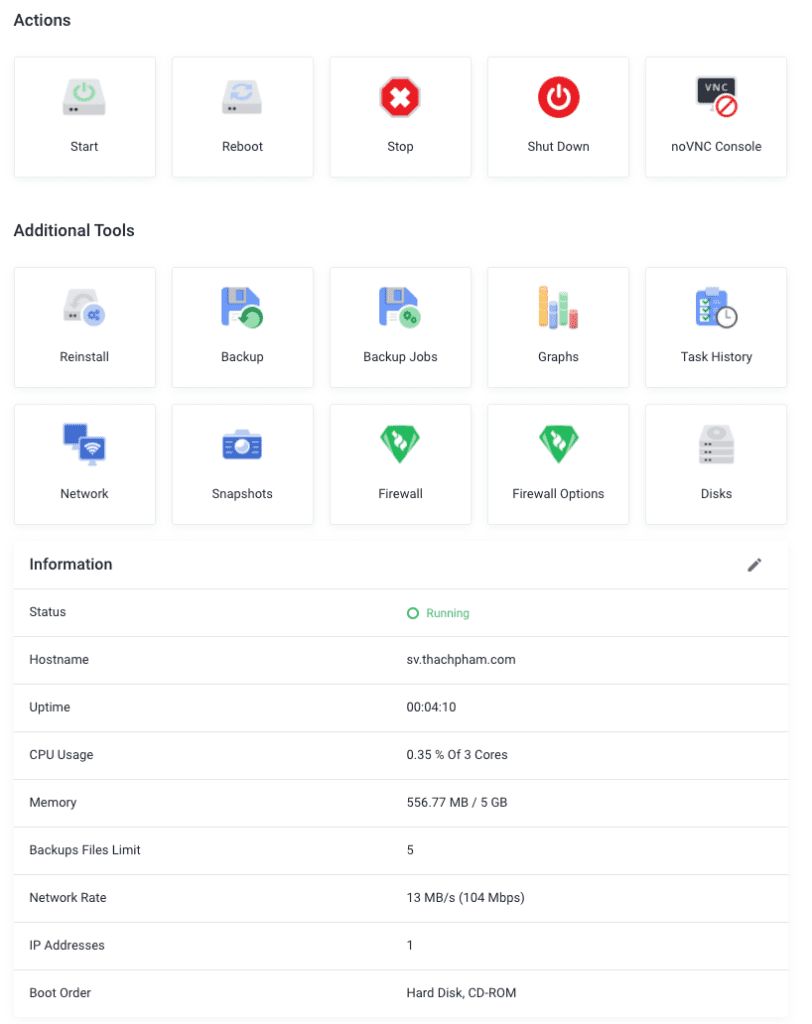 In this interface, you can:
Start/shut down the server.
Access the remote server screen when the server has no network (noVNC Console).
Reinstall the operating system.
View and restore backups (excluding AZDIGI's automatic backups).
View statistics charts for CPU, RAM, I/O, and bandwidth.
Configure the firewall within the VPS, supporting the creation of simple firewall rules through the interface.
Upgrade to a higher VPS package.
Conclusion
In the rapidly evolving landscape of technology, continuous investment and research into new technologies are essential tasks for AZDIGI. This allows us to find the best solutions to provide customers with a seamless experience.
Coupled with our professional customer support, which has been highly rated by customers for many years, AZDIGI promises to deliver the best service experience with Turbo Cloud Server.