In this article, AZDIGI will show you how to add a paid SSL certificate to your website using CyberPanel simply with just a few steps. Specifically, I will install an SSL certificate from the GoGetSSL® SSL provider, please follow along.
I. Overview
What is an SSL certificate?
SSL is a certificate that helps encrypt information on devices or applications that support this encryption. SSL certificate will have Private Key and Public Key, in which Public Key will be installed in terminal applications that browsers or other applications can access. Private Key will be installed in applications that handle receiving data.
Its purpose of operation is like the key to helping decrypt the data sent from the terminal, which is also encrypted through the Public Key.
See also: What is an SSL certificate and how many types of SSL certificates are there?
Who is GoGetSSL?
GoGetSSL belongs to EnVers Group SIA based in Latvia, established in 2009 as a company that provides SSL certificates globally. Today, this is a famous and trusted brand in the CAs (Certificate Authority) list. Up to now, GoGet SSL has been operating for more than 10 years with more than 77,000 customers and partners in 226 different countries and territories.
In Vietnam, where can you find Goget SSL?
Among the SSL providers in Vietnam today, only AZDIGI has become a strategic partner with Goget SSL and you can find Goget SSL products here. With a low price but fully meeting the highest criteria of an SSL certificate, Goget SSL is worthy of your experience and has a great security certificate.
And you can refer to GoGetSSL's paid SSL authentication method
So how to install a paid SSL on a website using CyberPanel, please see the steps below.
II. Implementation Guide
Step 1: Prepare SSL Certificate
After you have been granted a certificate from Goget, you need to check if the files are complete as below. If it is complete, you can install SSL.
Certificate: *.crt
Private Key: *.key
CACertificate *.crt

Step 2: Install the certificate on CyberPanel
To install SSL for the website on CyberPanel, you need to access CyberPanel under the link https://địa-chỉ-ip:8090/ (remember to replace IP with your IP) and log in with Admin rights or with User rights containing the website to be installed.
At the CyberPanel interface, you access Website => List Websites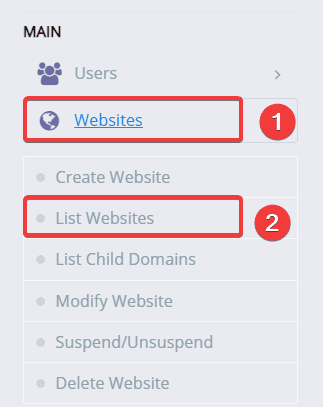 At the List domain on CyberPanel, you select the Manage section of the domain that needs to install SSL as shown below:

At the next interface, you install SSL with the following operations in turn:
In there:
1 – Click Add SSL
2 – Enter the contents of the certificate.crt & ca_bundle.crt file
3 – Enter the content of the Private.key file
4 – Click Save to save the certificate.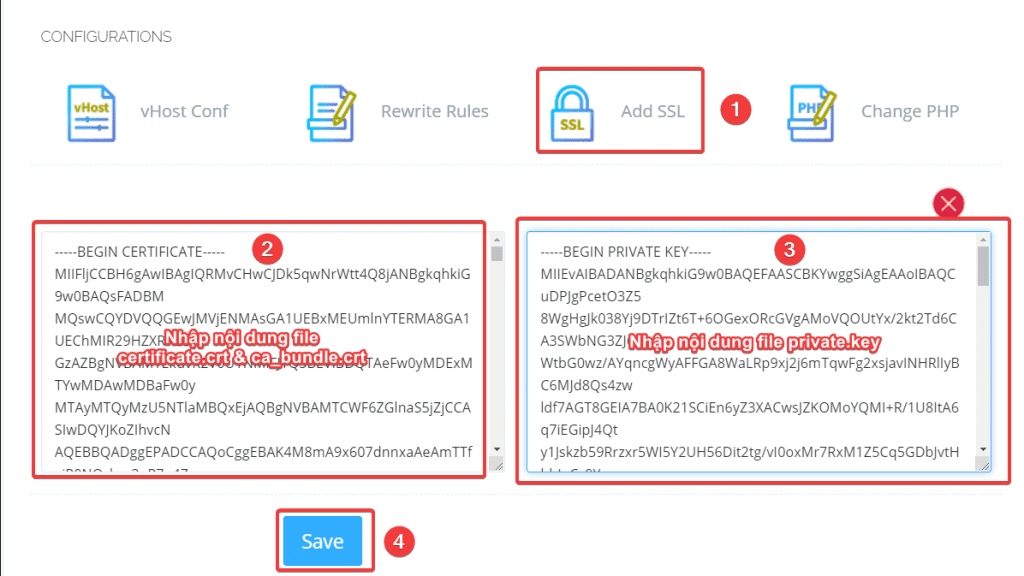 So you have successfully added a paid SSL certificate to CyberPanel.
Step 3: Check the certificate after installation
To more accurately check if your website has successfully installed SSL, you can check more through the 2 methods below.
Method 1: Check from the browser
You can access your website in a browser and click on the padlock icon as shown below. It will display which company's certificate the website uses and specify the issue date and expiration date.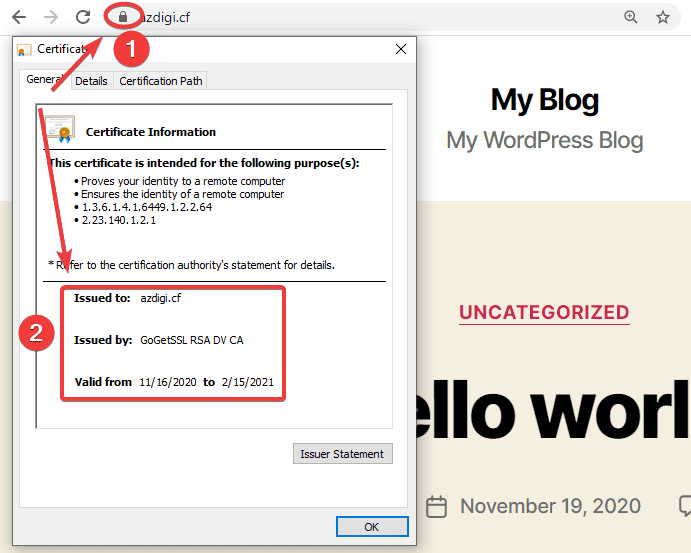 Method 2: Check from the SSL Shopper website
You can access the SSL Checker page by following the link: https://www.sslshopper.com/ssl-checker.html
Then you enter your domain and click Check SSL. At this point, all information about the website's certificate will be fully displayed as below: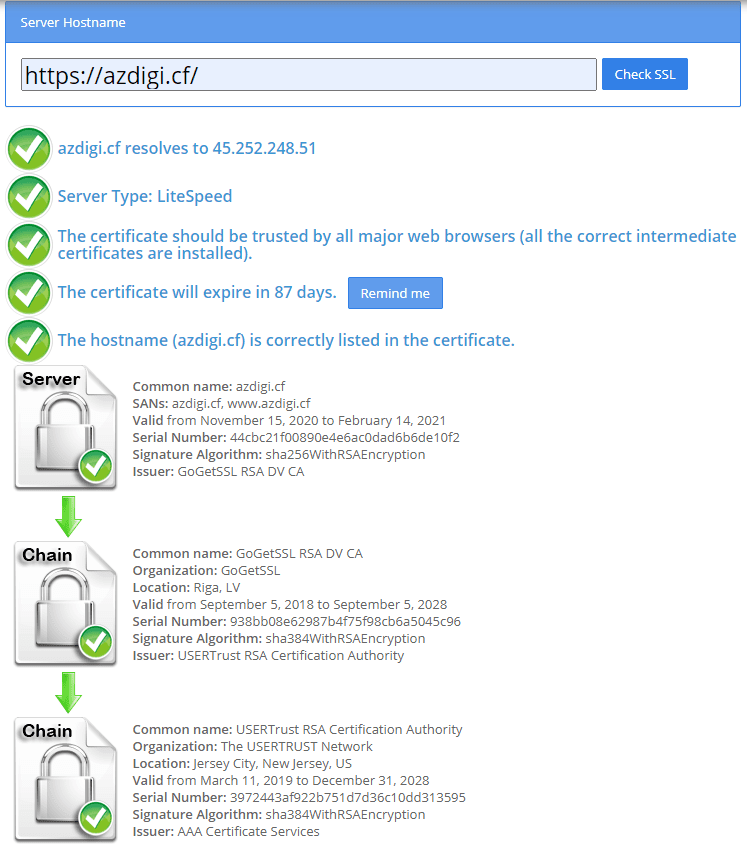 III. Summary
Hopefully, this article has helped you understand what paid SSL is and how to install a paid SSL certificate on CyberPanel. With a paid SSL, your website will have better security, high reliability and better Google search visibility. Besides, reputable paid SSL certificates will have compensation policies attached to ensure the security of SSL certificates is almost absolute.
If you find the article helpful, please share it widely. You can also refer to some other articles about CyberPanel at the link below:
If you need assistance, you can contact support in the ways below: